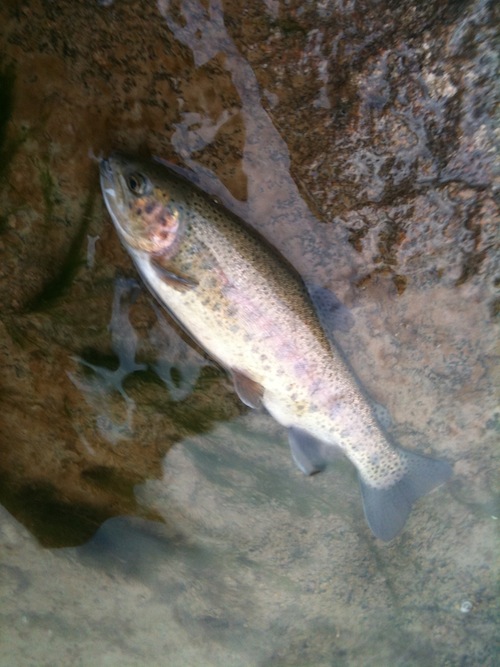 Just Added – Image from today at the Blue River. Released this one, but it had better than average color for a synthetic.
This great fly fishing weather that has set in in North Texas finally has everyone thinking trout – rainbow trout in this case.
The review of "An Entirely Synthetic Fish," withstanding, and still outstanding (yet to be written), it's time to get to some slabby catch-and-release only stocker rainbow trout. And if you are in North Texas, and just have to go north, it's a little less than 90-miles from my door to the Blue River catch-and-release (CNR) area outside Tishomingo, Oklahoma.
As opposed to the catch-and-kill area of the Blue River, the CNR area offers a unique experience. It has relatively few people fishing there – often no one during weekdays, and once you've reached the prime areas, it's quite easy for young, old, athletic and non-athletic people to move around, get to spots with clear backcasts, and have a shot at catching rainbow trout that have had time to gain some weight, and regain some instincts. Sure, virtually all have tell-tale tales, and other characteristics of stockers, but anemic they aren't.
I am a much bigger fan of the Guadalupe River in Central Texas, but the trip to and from the Blue River is all in a single day's work. The next time I go, I will be sure to finally make some images of the landmark, Scotty's, as well as the catch and kill park and CNR area. I am sure not a lot has changed since previous posts on the Blue River, but it often helps to see things are still where they were the last time we were there, right?
Tomorrow – A father-daughter story from their trip to the Blue River
Category: Culture on the Skids, Fishing Reports, Oklahoma Report