As readers may know, I will always throw out North Texas HOT SPOTS for fly fishing whenever I find them. They're called "Fish Flashes," and I've been doing them for many, many years. These FISH FLASHES are timely and often based on unique conditions that make for great fly fishing opportunities. When I say, "timely" that means they come and go, and sometimes they're gone quickly.
BIG RELEASE TODAY
[ppw id="154105143″ description="January Fish Flash" price=".10″]
Today I was taking my flatbed trailer back to storage by Lake Ray Roberts, and went on and fished the boat ramp at Isle du Bois State Park (caught one LMB there). The first thing I noticed at the boat ramp was the water was up again – I would say (without looking at the stats) that it may well be a few inches over conservation pool. While there, off in the distance I heard the sirens go off at the floodway, just as thunder storms were approaching from the southwest.
I packed it up and headed for the floodway (actually the continuation of the Trinity to Lewisville Lake. It was crowded with weekenders who were obviously there when the gates opened, and highly motivated by the potential fish activity. And there it is: Your FISH FLASH "before the fact" that there's a FISH FLASH. There were certainly no fish being caught at that time.
That bulge of water probably had not even made it to Lewisville, and that's the trigger that motivates those Lewisville fish to move up the river in search of that new food source, and responding to current's push instinctively. I have written quite a few posts over the years – on How To fly fish the riprap below the dam for monster hybrids and mature sand bass. Nothing's changed as far as strategies go, but WE HAVE TO WAIT for this Flash to flash. That water has to do its trick further downstream, and I can see the possibility that the logjams I saw near 380 Greenbelt Park could well thwart this phenomenon.
So IF they keep the dam open, and IF there's not a log jam downstream, THEN we could be on some great action by Monday or Tuesday morning at the 455 Ray Roberts Dam release. I will be checking on it, and if you want to book a half-day guided on this FLASH, just let me know! And I will let you know what's happening there – subscribe to the Twitter or Instagram accounts.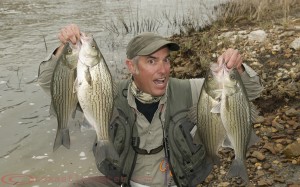 [/ppw]
Category: Culture on the Skids, Hot Spot