So you say there's not enough to do with fly fishing in Texas?
Well, where were you last Saturday (3-11-17)? Three major fly fishing events, two in North Texas and one in East Texas comprised the busiest weekend of the year in Texas fly fishing. And it's only March!
Talk about a weekend? I hope yours was as interesting to you as mine was to me. Driving, as I have said in the past, gives a lot of time to think, and driving back from the Texas Freshwater Fisheries Center – a "turn-and-burn" – from Athens, Texas, Saturday, definitely gave some time to debate (multiple personalities at work here) the biggest single day of Texas Fly Fishing events  in Texas in 2017.
WHAT I KNOW? WHAT DO YOU KNOW?
TPWD FLY FISH TEXAS
I can only speak for the event I attended, the annual Texas Freshwater Fisheries event, "Fly Fish Texas," that happened on Saturday, March 11, in Athens, Texas. The big picture of that event, verified by administrative types there, was the event had weak attendance. It was obvious to me that none of the vendors (speaking strictly of the outdoor vendors) from the past were there, with the exception of representation of Mariner Sails, Dallas, Texas. My hat is off to Mariner Sails! Indoors, there were vendors as usual, the usual vendors, and another Texas Fish Artist who I was somewhat familiar with, but had plenty of time to talk to about his art.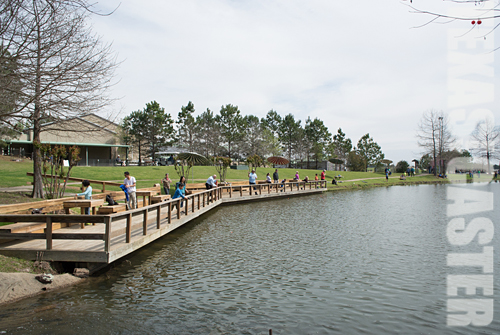 The new lecture, the "New Perspectives" on fly fishing for carp went over just fine in Hall B, to about five people (holds at least 50 souls), even if there were insufficient a/v connections to run the slides that would have potentially done a great job of illustrating the "New Perspectives." It taught me a great lesson on expecting a State agency to be prepared for guest speakers – they never are completely prepared. I brought every adapter I had, and they didn't have any. Even if I had the adapter to hook-up my laptop, guess what? They had NO way to plug it (HDMI) in cleanly anyway. The breakdown of the video presentation lead me to  blow off the idea of a video rebroadcast as well. Post lecture, there was a good round of casual q-and-a that ranged from flies to how to pole a skiff (asked by an Ankona owner from Louisiana).
TRWD Tarrant Regional Water District FlyFest Fort Worth Texas
I have heard that the turnout for this year's FlyFest in Fort Worth, Texas, was also tepid. And there was a shortage of vendors there as well. I am waiting to hear more about this event, so feel free to pipe in, or this will be in digital stone forever!
Texas Fly Fishing Festival
Now this may have been the event that sucked all the air out of the other rooms! I don't know, but I will tell you what I do know. I offered up marketing and PR help within two days after the event took wings on the internet. I guess I should've expected the cold shoulder from an East Coast expert, and I knew I could be in for a lot of work (if my offer were accepted) because of the promotional syntax inaccuracies right off the top. OBVIOUSLY, they had it all under control though! A rip roaring four micro-brewery tastes on tap, and a huge $50-75-dollar a person per (intermediate-advanced) lecture? I was a bit floored, and still am by that last fact. To think information like this has value – reminds me of me! SO PLEASE TELL ME how this event shook down when all was said-and-done. If I were a betting man, I would bet this first could well be the last.
OUT IN THE COLD!
And I actually let one event slip right by me. This was one of the weekends for the, typically huge, Fishing Show in Houston Texas! Nobody talks much about that one around North Texas, but it is a big deal. One of the worst websites ever – Houston Fishing Show .
CONCLUSION
Which event did you attend? l know all three events a had part of my fly fishing family at them, but I am still taken aback when complete strangers come up to me and ID me from the videos or the website, and then take their time to ask how I have been doing, and express their thoughts on the content. I appreciate that from those of you who take the time! Whatever you do, never hesitate to come up to me and give me a piece of your mind! That's motivating, and enlightening in so many ways.
THE WEEK AHEAD
Finally! The coast is clear to do some video updates. And the time is also right. This is Texas Spring Break Week 2017. You know my opinion on this week when it comes to hitting TPWD parks for recreation, and if you don't be sure to read below*.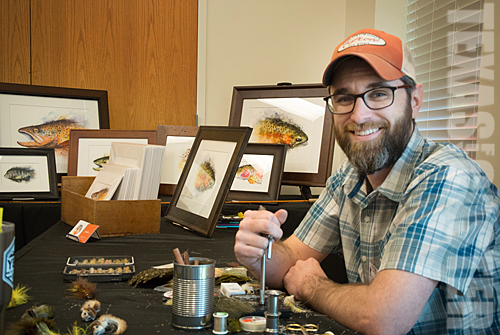 Nathan Brown is an East Texas fly fisher artist who works in watercolor.
It looks like I found a couple more stories to bring readers – while visiting folks at the Freshwater Fishery Saturday. One story is about an organization I had never heard of (or forgot about), called the Texas Brigades, and an artist (I think I have seen before), Nathan Brown of East Texas. Nathan does watercolors, very good ones, of fish he catches and the water mixed with the color? It's from the water where that fish was caught. How cool is that?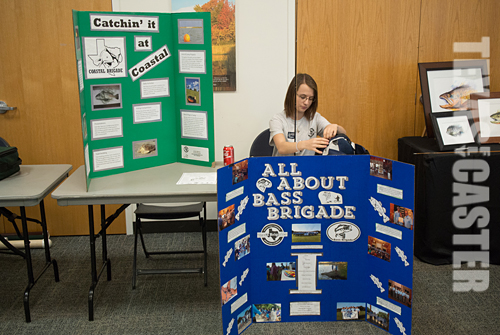 ---
*I stopped at Purtis Creek Lake State Park on my way back, only to remember I had been there before – years ago. The line at the ranger station was long, the sign said "no vacancy," and the lady working the window was pretty worn out. That's how it is – Spring Break in Texas. And that's why I stay away during this special week. However, stopping there also reminded me; this is one fun little lake and park! The attendant said it's never crowded during the week (except spring break), and they "have never ever had 50 boats on the lake," which is the limit for that no-wake lake. Purtis Creek is also a catch-and-release largemouth lake, and the map they give at the window has brush piles showing on it! Amazing. There may have been three boats there Saturday.
Category: Adventure, Causes, Complimentary Reading, Destination Fly Fishing, Fish Art, Industry, Life Observed, On The Road, Science and Environmental, TECHNICAL