Texas Fish Art Michael Quinn Fish With Attitude and Author Fly Phoebe Fly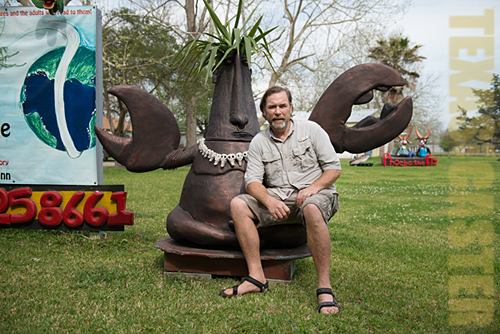 Call it a "jurassic sculpture art park?" That might cover most of the bases for the home-art-compound of Mike Quinn in Santa Fe, Texas. But it doesn't cover all of them …
First a bit about Santa Fe. It won't be mistaken for Santa Fe, THE Santa Fe, anytime soon. The town runs along 6 and just past the intersection of 45-and-6 heading out of Galveston, Texas. This is the land of the flat grid roads that remind me of the back roads where my Grandparents lived in Aransas Pass, Texas. Straight, flat and punctuated by stop signs. It kind of reminds me of  Homestead, South Florida.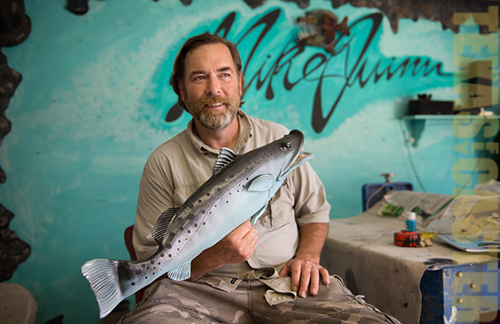 It was a long interview with Mike, and the fruits of that labor will be on this tree at a later date, but suffice it to say; there is a great American story of a business started from an art assignment at Texas Southern University, that grew into a huge art business, was withered by 9/11, went away for a few years and is back again. It's also a story of an artist with an imagination so vivid, he could create (write and illustrate) an entire children's book based on seeing a fly on a plane. And it's an interview that ended with a lightning storm that kept me pinned down inside his studio for about an extra hour, with bolts striking so close it seemed like our meeting got God's full attention.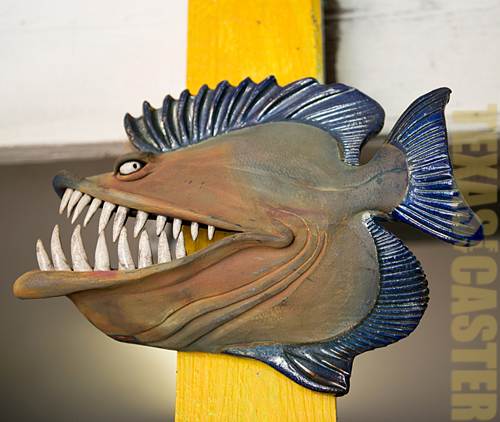 This is one of those stories that has to be offered up to my other (paying) publishing outlets first, and then I will roll out my version – for subscribers – here. Meanwhile, if you want to hear more about Fish With Attitude or his book, "Fly Phoebe Fly!" contact me, and I will fill you in.
SPEAKING ENGAGEMENT SATURDAY ATHENS TEXAS
Thanks for reading today. It looks like a disaster waiting to be had for tomorrow's event at the Texas Freshwater Fishery Center in Athens, Texas. We're looking at an 80-percent chance of rain, which really translates into 100-percent by my science. I'm afraid it means huddling inside, soaked vendors outside, and not much in the way of attendance. Seeing as this is my first speaking gig since cancer, it won't hurt to play to a smaller than usual crowd. If you thought Marco Rubio swigged water, wait until you see me up front Saturday!
Category: Adventure, Fish Art, On The Road, Writing