Texas Report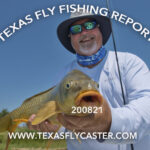 What we have here are unknown unknowns … and much more! Feel free to watch, comment, or be daring and subscribe to the Texas Fly Caster YouTube Channel. It's only twelve-years-old, and it is aging gracefully. Check out the progress inside the 1970 Airstream Safari as well!

Our thoughts are with you and our entire Texas family during this uncertain time. Texas State Parks are doing our best to provide a healthy way for you to get outdoors. Our dedicated teams across the state are working diligently to keep these special places open and safe during this difficult time. Most state parks […]

Monday Morning and the Texas Fly Fishing Report video update. Skiff tweaks.