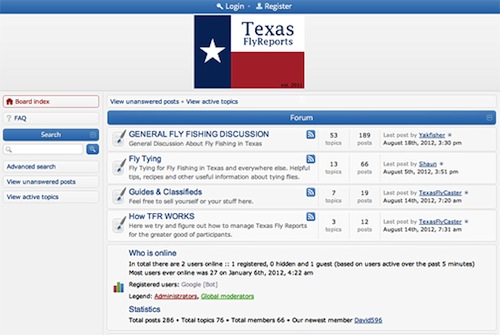 For those of you who are interested in discussing fly fishing in Texas, I dug into the deep pockets (yeah, right) of Texas Fly Caster to hire someone to update and repair Texas Fly Reports. Texas Fly Reports is a discussion board I constructed late last year to take the pressure off the discussion boards here, and free Texas Fly Reports to run independently with all the power of a stand alone board. I also wanted it to be clearly separated from the goals and drive coming from Texas Fly Caster, but as all management has reverted to me, I'll have to make the time investment worthwhile by crossing the sites to each other on a more regular and transparent basis.
Texas Fly Reports got off to a roaring start, and at the time I had two administrators that were to be handling the direction and nuance of the boards. Unfortunately, they faded away and the board software became unstable as they all eventually do.
While discussion boards are obviously suffering everywhere, from lack of participation and lack of general interest, they still have informational value when they are performing properly. Check out any major national board and you'll find an apathetic participation level based on years past, much the same as Facebook seems to have primed and is on the decline (for those of us who were with Facebook from the early days).
While I have taken the lead in creating a network of state-by-state fly fishing discussion boards (www.oklahomaflyreport.com), those expansion plans will be on definite hold until whatever trends, and their causes, are discovered. I sometimes believe the widespread apathy is strictly a symptom of a sick economy, and maybe we will turn the corner on the "new normal" sometime soon.
Regardless, we'll let the direction of Texas Fly Reports play out for the rest of this year, and reassess bringing the discussion boards back inside the Texas Fly Caster site if the national malaise continues.
Feel free to let me know what you want to see more or less of here at Texas Fly Caster, and I'll certainly take that into consideration as we head into fall and winter.
If you are at all interested in the survival of Texas Fly Reports, go there and register and start a new topic today! Otherwise, that plug will be pulled sometime next year.
Category: Reader Contribution, Writing