Tag: coastal bend
fly fishing port aransas texas #flyfishing saltwater
LONG AND SHORT
The long and short of fly fishing in Port Aransas, Texas, is that if you are there for a limited time … your time on the water could be long, or it could be short. Why is that? The elements, of wind, water and fire (that fireball in the sky) can do you in for days at a time. And if those "days at a time" overlap your days? well you're pretty much done.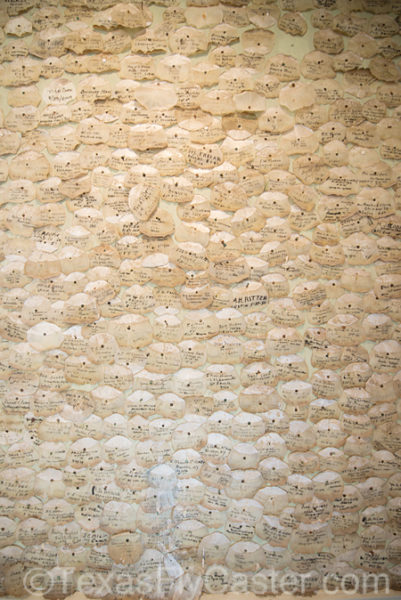 Tarpon scales line the wall of the Tarpon Inn, Port Aransas, Texas. – story on the Tarpon Inn coming soon! –
[ppw id="138846401″ description="Fly Fishing Port Aransas Texas Details" price=".10″]
As I predicted, and maybe you watched the YouTube video where I groused about it recently, the slack tide did a huge disservice to the time I was in Port Aransas in July. It wasn't that difficult to predict, and it certainly didn't take a scientist to see the water barely moved in either direction. It left baitfish well oriented (not swished into a ball of confusion), and didn't reach into the grass where shrimp would go … if it weren't high-and-dry. The winds started off absolutely brutal – 30 sustained when I was driving over the causeway, and pushing 40 sustained a day later. That rendered huge areas of the bay as clear as a chocolate malt from Whataburger. The slack tides didn't move it out any too soon either.
Even though the tides were against me, I did manage to hit on a few rat reds, just to say I caught a red, and just to feel that drug – the tug. I did see some bigger fish, but since their entire eating pattern was frazzled, so were they. It was pretty darn hard to keep from spooking them, and there just were not enough of them to shake a stick at. Those that did eat, ate a fly I made from what I (think I) know about tying the famous "redfish crack fly." I took the original pattern from what I know of how to tie the popular Texas Gulf Coast fly, and added an articulated tail section to give it more action (and make it just a little more difficult to tie!).
The reality of flies for redfish on the Texas Coast is that redfish will eat just about anything you throw at them. Hence the huge popularity of redfish! The only catch is; with expanding areas of grass along the inland waterways, fly selection is often based on the ability to keep the fly from snagging grass. I am not a fan of weed guards at all, so casting needs to be deadly accurate. Two three full strips of the line, and the fly is ready to pull, de-weed and cast again. Depending on the sensitivity of the redfish, you could go right back at the same fish with your next cast!
I've been all over the Port Aransas area in past years. Links to stories from past years are here – PORT ARANSAS FLY FISHING. Those areas included catching fish on Brown & Root, the guts a short paddle across the intracoastal waterway from Aransas Pass and with Billy Trimble on a blustery day in the corner of Redfish Bay.
I dedicated all my time on this trip to the protection (from howling winds) of Mud Island, and by the last time I pulled the boat, my GPS on the underwater TV (Humminbird Helix 5DI/SI), there were lines over lines – all leading up the Lydia Ann Channel to Mud Island. The safety of the run, for those who don't know the dangers, is pretty darn reassuring. That's another good reason to choose Mud Island. I assume the winds will be from the north by the time I am there in February, so switching to the other side of Mud Island could well answer the question once again. Poling was completely out of the question, winds and tide took care of that option. So I anchored and walked beautiful, lush habitat until I was exhausted – with still miles to go. BEWARE – Mud Island really does protect you from the winds! It can cut 15-miles-per-hour, or more, off the real wind speeds. By the time I cranked up to go back to port, I was caught in swells between 2 and 3 feet in the wide open areas of the bay, and open channels. (The Lydia Ann Channel does also help tamp down wind driven swells assuming winds aren't running straight up the channel.)
And the honest truth is, I can hardly wait to get back down to Port Aransas, Texas.
WHAT IT IS ABOUT PORT ARANSAS
You might ask why I would be so hot for Port Aransas after gushing for years about Port O'Connor, Texas, and the awesome fly fishing that area has offered me over the years. Well, I see Port Aransas as another area that needs a lot of exploration, has a lot of stories to tell (many of them historic, many never told), and as a place that really can be all things to all people – fun for family, eating, drinking, kiting, birders, historians, conventional fishers, jetty fly fishers, surf fly fishers, kayakers, wade fishers … you get the picture. This is a place with multiple dimensions, and great stories really are everywhere!
KNOW BEFORE YOU GO
Google maps with the satellite overlay will tell you a lot about what you will see between Aransas Pass and Port Aransas. If you are boating, it's imperative to have electronics to keep you out of trouble though. And what I am finding is that electronics allow me to duplicate my routes (assuming they were without "events"), and get right back to the "marks" I put down in previous trips to the area. It's really the best of all worlds with good GPS and maps.
Feel free to request a link to the map I created of Port Aransas, and I will give you access to a Google Map with multiple points of interest for you and your family.
There's so much more to know before you go! In coming days, I will share more of what I came to know about Port Aransas, Texas. The fly fishing is just the tip of the iceberg. Stay tuned, and if you have a trip to Port A coming before I post the rest of these stories, feel free to contact me and I can get you some detailed answers.
RODS – 7 to 9 weight fast saltwater rods capable of short shots — TFO Mangrove was spot on
REELS – Hard to get away from Lamson and the GURU – anything less is a risk
LEADERS – fluorocarbon with 10-pound tip
FLIES – the usual suspects
METHOD – Skiff to shoreline grass/sand combo flats, walk wade and take shots at will
DANGERS – Running aground without boating knowledge. Tons of stingrays. Falling on shells.
REWARDS – Redfish / speckled trout / ladyfish / occasional flounder (watch for puffs of sand)
[/ppw]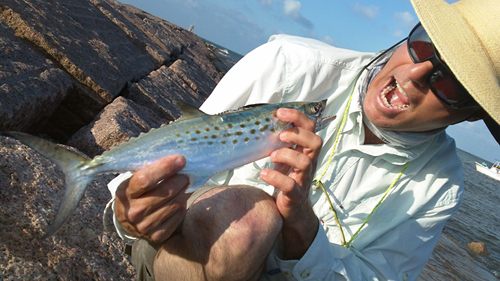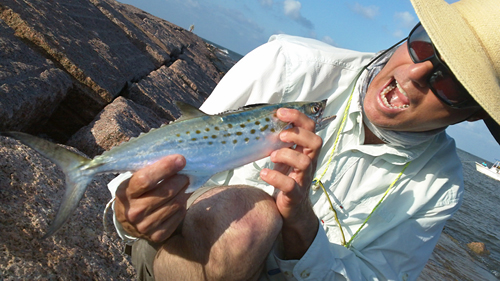 Preview of next article on fly fishing from the jetties at the mouth of the Colorado River – Matagorda Jetties. Spanish Mackerel caught with a classic Clouser.
By the time I made the turn in the middle of nowhere onto 60, it was already dark and I was pretty hot about making a wrong turn that cost serious time along the way. It's hard to tell yourself it's about the journey and not the destination when the journey accidentally takes you through coastal refinery land and nothingness.
Salsa, Immanuel Salas, had already blazed the knowledge trail with countless trips to Matagorda, and was meeting me there for this experience. He confirmed that this is gator country, and another veteran fly fisher still has a special memory of the largest rattlesnake he had ever seen swimming being at Matagorda.
As a result, I had little interest making this trip, that would include kayaking, alone. My first encounter with Texas Gulf Coast alligators cam unexpectedly at Rockport, Texas, and inspired me to make special preparations for coastal trips like these.
Honestly, when you are preparing for a Texas Gulf Coast fly fishing adventure, the most likely physical dings you will encounter will be; sunburn, bug bites and at the extreme – stingray injuries. And if you are familiar with the treatments for these, then you are ready to fish the Texas salt.
However, my encounter with Rockport gators was enough to instill a consciousness and a little fear in this angler. My coastal precautions now include a Ruger LCP and a Uniden marine radio. The Ruger proved itself to me about three weeks ago, when I rid my location of a 4-1/2 foot Texas diamondback. I kept my distance from the viper, but the LCP's direction was true … thank goodness for a full clip though.
Salsa and I, unlike John Gierach and his various travel companions, triangulated our separate locations and found each other on one of the lighted public piers in the park. We live in a golden era of forced group travel, and even the loner wolves are packing together for their economic benefits.
A good onshore wind was keeping the mosquitoes at bay, and the green lights hitting the water revealed ribbonfish and plenty of bait moving through. Catching my breath from the drive, and taking in Texas geography; I am staring into the Colorado River where it runs into the Gulf of Mexico. It's the same river that runs right past my old stomping grounds in Bastrop, Texas. And Matagorda is itself a geographic quirk, facing mostly south as it does along the Texas Coastal Bend. It is subject to the hot, direct, relentless south winds that usually come later in the year, but have already arrived. Set aside the weather, it takes awhile just to get north-north south oriented in Matagorda.
We fished a little, sharing space with conventional fishers can be tricky for throwing a fly from a public pier can become futile quickly though. Salsa was pretty much beat, as was I, but the green lights, and pier fishing at night on the salt, mesmerized me, and filled my mind with childhood weekends spent fishing on piers on the Arroyo Colorado, and Three Islands. I remember … the specks will let you know when they're there.
While Salsa got ready to sack out, I stayed on – watching the pier and letting an experienced bait fisherman be the fish finder. Our plan was to sleep in the pier parking lot, until someone said we couldn't, and listen for signs of fish (flopping sounds on the pier). Just about the time Salsa was ready to try out his sleep arrangements, the fish finder was getting a bit more aggressive toward the smacking mouths that started showing up on the edges … and his popping cork finally did the trick. He landed a nice eighteen inch speck that was one of the fattest I have ever seen in person.
That was enough to bring Salsa to the deck, and we did fish it for awhile that night, but that was apparently the only fish in the ocean. None of the three of us, Salsa, the fish finder, or myself, caught a fish over the next 1-1/2 hours. We gave up, and took to road weary sleep. I set up my new Cabela's cot beside the car, open air for me tonight, sprayed what was uncovered with bug spray, and dozed the night away. Cars would drive up and look, and conversations would ensue – between the fish finder, and passers by looking for fish. So I will emphasize – dozed the night away.
To be continued …
NOTE – I will break down the Matagorda Fly Fly Fishing adventure into its respective parts that include; fly fishing from the jetties, fly fishing the marshes and fly fishing the intracoastal waterway. The map, below, lacks "descriptions" because there is some problem with google maps, or this map exceeds their limits. There will be more details to come on this map.

View Matagorda Fly Fishing Map in a larger map