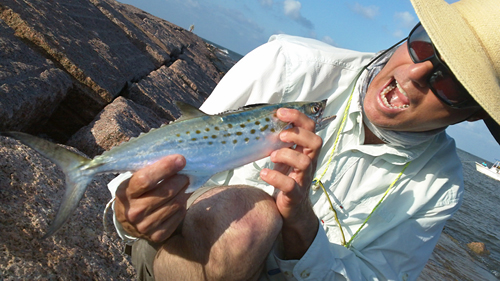 Preview of next article on fly fishing from the jetties at the mouth of the Colorado River – Matagorda Jetties. Spanish Mackerel caught with a classic Clouser.
By the time I made the turn in the middle of nowhere onto 60, it was already dark and I was pretty hot about making a wrong turn that cost serious time along the way. It's hard to tell yourself it's about the journey and not the destination when the journey accidentally takes you through coastal refinery land and nothingness.
Salsa, Immanuel Salas, had already blazed the knowledge trail with countless trips to Matagorda, and was meeting me there for this experience. He confirmed that this is gator country, and another veteran fly fisher still has a special memory of the largest rattlesnake he had ever seen swimming being at Matagorda.
As a result, I had little interest making this trip, that would include kayaking, alone. My first encounter with Texas Gulf Coast alligators cam unexpectedly at Rockport, Texas, and inspired me to make special preparations for coastal trips like these.
Honestly, when you are preparing for a Texas Gulf Coast fly fishing adventure, the most likely physical dings you will encounter will be; sunburn, bug bites and at the extreme – stingray injuries. And if you are familiar with the treatments for these, then you are ready to fish the Texas salt.
However, my encounter with Rockport gators was enough to instill a consciousness and a little fear in this angler. My coastal precautions now include a Ruger LCP and a Uniden marine radio. The Ruger proved itself to me about three weeks ago, when I rid my location of a 4-1/2 foot Texas diamondback. I kept my distance from the viper, but the LCP's direction was true … thank goodness for a full clip though.
Salsa and I, unlike John Gierach and his various travel companions, triangulated our separate locations and found each other on one of the lighted public piers in the park. We live in a golden era of forced group travel, and even the loner wolves are packing together for their economic benefits.
A good onshore wind was keeping the mosquitoes at bay, and the green lights hitting the water revealed ribbonfish and plenty of bait moving through. Catching my breath from the drive, and taking in Texas geography; I am staring into the Colorado River where it runs into the Gulf of Mexico. It's the same river that runs right past my old stomping grounds in Bastrop, Texas. And Matagorda is itself a geographic quirk, facing mostly south as it does along the Texas Coastal Bend. It is subject to the hot, direct, relentless south winds that usually come later in the year, but have already arrived. Set aside the weather, it takes awhile just to get north-north south oriented in Matagorda.
We fished a little, sharing space with conventional fishers can be tricky for throwing a fly from a public pier can become futile quickly though. Salsa was pretty much beat, as was I, but the green lights, and pier fishing at night on the salt, mesmerized me, and filled my mind with childhood weekends spent fishing on piers on the Arroyo Colorado, and Three Islands. I remember … the specks will let you know when they're there.
While Salsa got ready to sack out, I stayed on – watching the pier and letting an experienced bait fisherman be the fish finder. Our plan was to sleep in the pier parking lot, until someone said we couldn't, and listen for signs of fish (flopping sounds on the pier). Just about the time Salsa was ready to try out his sleep arrangements, the fish finder was getting a bit more aggressive toward the smacking mouths that started showing up on the edges … and his popping cork finally did the trick. He landed a nice eighteen inch speck that was one of the fattest I have ever seen in person.
That was enough to bring Salsa to the deck, and we did fish it for awhile that night, but that was apparently the only fish in the ocean. None of the three of us, Salsa, the fish finder, or myself, caught a fish over the next 1-1/2 hours. We gave up, and took to road weary sleep. I set up my new Cabela's cot beside the car, open air for me tonight, sprayed what was uncovered with bug spray, and dozed the night away. Cars would drive up and look, and conversations would ensue – between the fish finder, and passers by looking for fish. So I will emphasize – dozed the night away.
To be continued …
NOTE – I will break down the Matagorda Fly Fly Fishing adventure into its respective parts that include; fly fishing from the jetties, fly fishing the marshes and fly fishing the intracoastal waterway. The map, below, lacks "descriptions" because there is some problem with google maps, or this map exceeds their limits. There will be more details to come on this map.

View Matagorda Fly Fishing Map in a larger map
Category: Culture on the Skids, Destination Fly Fishing, Fishing Reports, kayaking, Life Observed, Texas Gulf Coast