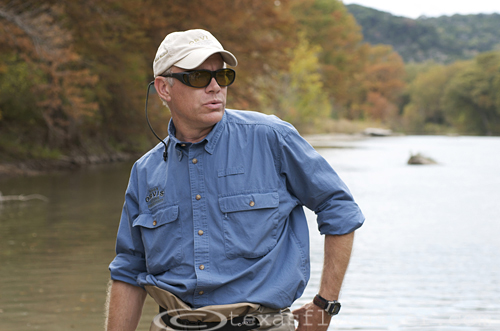 FROM ROB WOODRUFF –
Dallas Orvis Days
Orvis Dallas is having Orvis Days, October 6-9. I will be at the store from 10-3 on Saturday, October 8. I am presenting the program "Fall on the Forks"; covering fall/winter fly fishing on the Mountain Fork River and East Texas lakes at noon + free BBQ, Shiner Bock and music by Brad Hines. Many other activities, seminars and guests will be at the store each day of the event. Contact the store at (214) 265-2645 for details.
Orvis Dallas is located at the SE corner of Preston and Northwest Hwy.
Tenkara Fishing
I am now offering Tenkara trips for Trout on the Lower Mountain Fork River. Tenkara is the traditional Japanese form of fly fishing. It uses a very flexible 11-13 foot rod, line and fly, no reel. It's a very effective, simple and enjoyable method of fly fishing streams.
I provide all of the equipment, instruction and traditional Kebari flies for full or half day trips.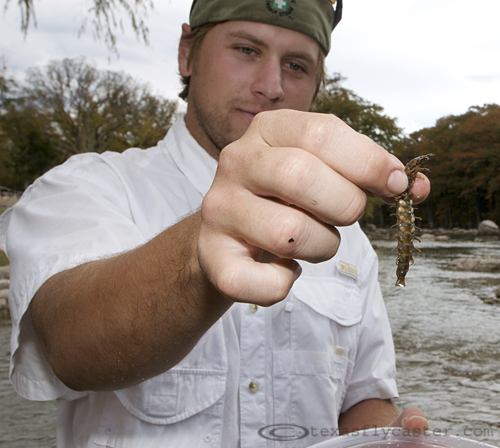 Rob Woodruff entomology class on the Guadalupe River. Bonus – what is he holding?
Entomology for Fly Fishers Class
The next Entomology for Fly Fishers class will be November 12/13 on the Lower Mountain Fork River. A course designed for all fly fishermen, gives an overview of the invertebrates, both aquatic and terrestrial, that are of importance to the fly angler. Warm-water and cold-water environments are included.
Topics covered include sampling techniques, identification of both larval and adult stages and simple biology of the species. The ultimate goal of the class is for the angler to develop the ability to equate in-the-field observation to fly selection and construction in order to achieve success.
Tuition- $75.00
Class size is limited
Contact me to register with a check or money order, contact Three Rivers Fly Shop (580)494-6115 to use a credit card.
Let me know if you have any question,
Rob Woodruff
Orvis Endorsed Fly Fishing Guide
Category: Eating and Drinking, Equipment, Events