south padre island jims pier isla blanca park fly fishing #flyfishing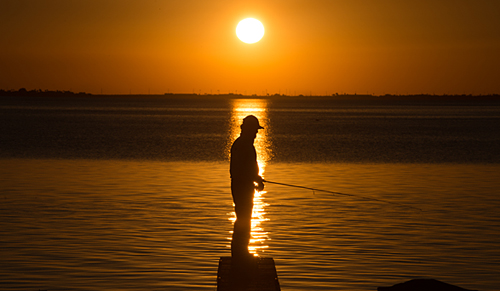 Welcome to the Monday Morning Sidewalk. If you've never been here before, then I'll just tell you the name of this Monday column takes from the classic Kris Kristofferson song, "Sunday Morning Coming Down," because sometimes a Monday feels like a Kristofferson Sunday when we get back to our world. The Sidewalk is also a chance to talk, in general, about more than fly fishing.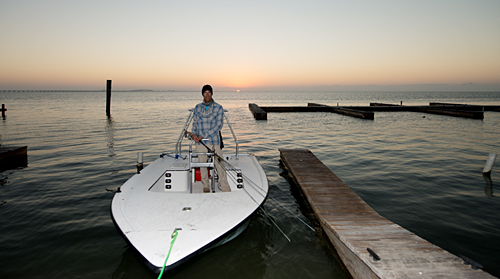 Jim's Pier is basically abandoned except for lost North Texans like myself. I can't wait to see how the redevelopment turns out here!
ISLAND STYLE
We've been at South Padre Island (SPI), Texas, for a little more than a week and not a fish has touched my hand. My tail was dragging when I got off the Jetties at Isla Blanca Park. The water there was near perfect, green and clear. The calm had come to the surf side, and I could see the sheepshead chewing on the granite before cruising by my fly. Whatever they were eating, I didn't have.
This stop at SPI is mostly defined by wind, lots and lots of wind. Open water and a twenty-mile-per-hour wind just don't go well with flying solo on the skiff over miles of water. We were able to take advantage of the protection from South Bay on Saturday, and I finally got on the platform to pole a friend around the Bay, and while it was absolutely beautiful, there were no fish to be caught – in the guts, potholes or out on the flats. All-in-all, we spooked one red, and saw the flotilla of boats, that arrived after us, catch zero fish.
The best luck I've had is getting a slip for the skiff at Jim's Pier last week. It certainly is convenient to just drive up to the boat, load up and go. There's a lot more to tell about Jim's Pier – a story about a phoenix rising from the ashes. Yes, you may have heard Jim's looks like a bomb hit it years ago, and then no one came to clean up the debris. It's a ghostly reminder of what it once was, which was the Island epicenter for bait, boats, launching and slips. And after talking to a developer from Dallas, just by luck running into him last Tuesday, there are plans to resurrect Jim's Pier and several of the surrounding properties, reviving the location at the very least, and redefining the area if all goes according to plan. Big ideas are what I like to hear, and I like what I heard – A LOT.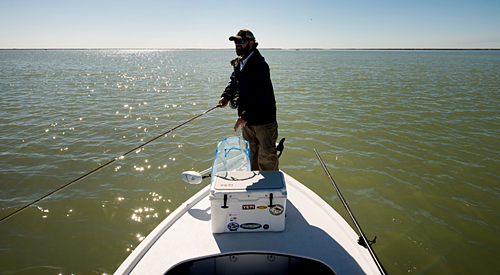 The calm before the wind inside South Bay, the lowest Laguna Madre, Texas.
This morning, the wind is again the story. Although I wanted to run to the Brownsville Ship Channel, the wind will be coming up all day … making the return a little too tough for my taste. We have a threat of rain as well, but more likely tomorrow and Wednesday at 40-percent. Winds today? They just upped the range today to 15-25 mph. So this trip is being defined by weather; fast changing conditions, swings in temps and those changes bookended by wind. I am not finding any viable calm in between the changes, and although I have quite a "deal" on my boat slip, it's tempting to go ahead and throw in the towel and pull the boat. It really is OFF season for me here now – compared to trips past, I am getting a grip on rest and recovery, but not much else. It's hard to find solace in the fact I'm not seeing many fish, caught or otherwise.
We are working to fill in some of the blanks you would find if you were dropped on South Padre Island from another planet. At some point I'll make the case that SPI actually is another planet. We've hit a few restaurants and the Padre Island Brewing Company, a block away, has been a surprise with their Speckled Trout Stout warming many souls from near and far homelands this Island off-season.
This off season trip to South Padre Island, Texas, is serving well to work out the kinks in the skiff, see what works, what doesn't and make adjustments. For example, I never anticipated having a boat slip, so I never thought to buy bumpers for the boat's mooring. The conditions of Jim's Pier (at this time) really dictate taking care to bumper-up your boat, and choose your slip wisely to avoid having it sit on the stick bottom at low tide (yes dredging the slips is in Jim's Pier's future if they want to do it right.
There are a few other things that I am finding out about the skiff. It's a heck of a dry ride. It poles very well – straight and shallow. It doesn't seem to be running as shallow as is needed here, and I think I may have to raise the motor a notch on the mount. Most interesting, the locals are going absolutely nuts about it … I keep getting tons of questions, and I have heard people are stopping over at the slip just to look at it. Hmm, can I get a couple to sell down here Oscar (Weaver, owner Lagoon Boats)? These guys are aching for an affordable technical poling skiff around here. I knew folks would realize the potential of this platform – once I got closer to the coast!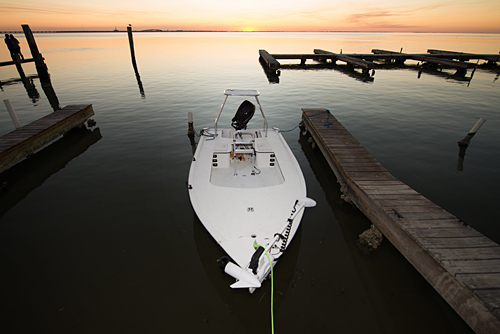 Windy days are bookended by calm nights and rising tides at night – enhanced by a full moon. The Lagoon Skiff has made a big splash down here at the Tip of Texas.
BIRD NEST
What I am wondering, "Is South Padre Island, Texas, a bird nest on the ground for a new FULL SERVICE fly shop?" Larry Haines is closing down his shop in Port Isabel. Jim's Pier is on the rise … It certainly feels like home around here now (get me to an insane asylum when spring break comes!). Sounds more like a bird nest in a hurricane the more I think about it.
Category: Adventure, Body-Mind-Soul, Complimentary Reading, Culture on the Skids, Destination Fly Fishing, Eating and Drinking, Fishing Reports, Flats Boats, Fly Fishing for Redfish, Fly Shops, Lower Laguna Madre, Texas Gulf Coast