WHAT GOES AROUND COMES AROUND – Huge New Flats on The Rise Now!
You may find it hard to imagine the need for constantly finding new carp habitat behind the scenes. It's true. From Statewide to Lake Ray Roberts, the search for me is a running background task. By now, you have come to realize Lake Ray Roberts is a unique (unique = one-of-a-kind) Texas lake. While the majority of the shoreline on Ray Roberts have a typical slope into the lake, a significant stretch of Ray Roberts shoreline has a long prairie-like, or is it farmland-like? flatness around its edges. 
As one of the variables, lake level, has been much more normal – this year – than in previous years, we have a wealth of "new" flats appearing in front of our sun weary eyes. My eyes are weary to the extreme … so many fish it feels like I go minutes without blinking. In fact, I actually have to remind myself to blink at times of extreme burning. The vast majority of carp (bass too) are out of the deepest coves now, and their preference is those new flats. Of course, wind exposure will be a problem, but the south winds should have pretty much died by now. These flats are like old friends who've been away for awhile, or we just missed each other by that much, that little. Well they're back, and we have our late summer FULL BLOWN revival underway now.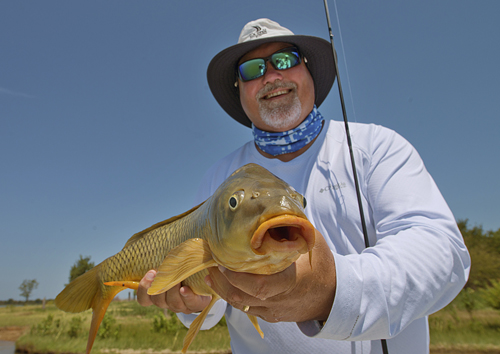 With the violent cool front that came last night, bringing a lot of bluster but little rain relief, I was hoping for a nice overcast day today. Why? Well, I am starting to eliminate the variables on these huge grass carp roaming the Ray Roberts flats. One of the variables is SUN. These fish do NOT LIKE sun. I have only hooked one, about 6-years ago, at the extreme of the drought. I was in chest high water, wading, and was able to sneak up on three of these monsters, and drop a fly (less than 9-feet away) into their churning, boiling roil … they were head down and devouring greens to the point that there was a huge debris field about ten-feet around. Somewhere down there, a thirty pound grass carp accidentally took my fly … on an 8WT and 8 pound leader.
It was a typical fight, running, forgetting he was caught, being reeled back in to be reminded he was caught, and running again. On the third return, we went literally eye-to-eye, and my hand was on the leader. What do you think happened? Yeah, so since then I have this "thing" about grass carp on Ray Roberts. I mean, a fish that has a tailspan of 12-inches, as the biggest ones do? What would you do? There are plenty of other species to distract a day on Ray Roberts, buffalo, bass, etc … There is NO distraction that comes close to this one.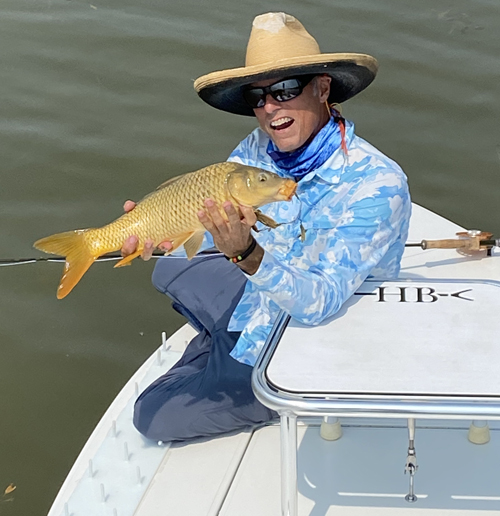 Book your carp trip, or go to the left column to roll the dice, and play a little game of raffle for a chance to win a guided trip. We are in our second round now, and the first round winner will be announced this week!
Category: Adventure, Body-Mind-Soul, Culture on the Skids, Fishing Reports, Flats Boats, Fly Fishing For Carp, North Texas, TECHNICAL, Technique, Texas Skiff