USACE – TPWD SNATCH DEFEAT FROM THE JAWS OF VICTORY ONCE AGAIN!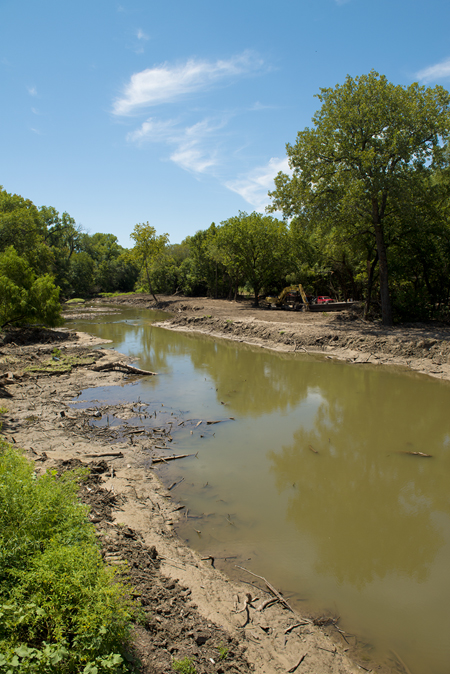 TRINITY RIVER AT 380 Greenbelt Park – I stopped out to check the progress at the Trinity River today, taking my life into my hands to walk the roadside and bridge to the River. I had heard there was visible progress when it comes to removing the USACE-TPWD's log jam they created there, and had been glancing at it for a few weeks – at 60-miles-per-hour, for a couple seconds. It was time to take a long look.
I was walking back from taking this image when a couple of workers were coming out and closing the gate (I had parked OUTSIDE of). I picked up my pace to get to them before they hopped back in their truck which was pulling a huge trash container with a backhoe inside it. Strange.
"So are you guys working on this, or hauling equipment?" I asked. "We WERE working on it, but we're done," the driver said. "Whoa. You're not done yet are you? What do you mean, you're done?" I replied. I could feel the tide change in my spirits … I afraid of what I would hear next.
I used to catch tons of great fish up at the dam (Ray Roberts) before this log jam, and it has been a two-and-a-half year drought since the log jam gradually ruined fishing for us.
"They the USACE and TPWD are out of funds, and we're shutting down," he said. "What? You're not done yet right?" I said. "No. We got a long way to go. They're supposed to get the barge today," he said.
Unbelievable. By only doing about 20-percent of the job, and stopping? That means nothing at all, and was a total waste of money to begin with. FEEL FREE TO THINK about this. This is a solid and long log jam. Removing the part nearest the decimated 380 Greenbelt Park does no good whatsoever.
This is a pure failure of TPWD, USACE and all Greenbelt clubs, organizations, coalitions – PURE FAILURE.
Feel free to look back at some of my stories on the Trinity River Greenbelt over the many years I have covered it. Also, check out the stories (by searching!) on the great hybrid and sand bass action we had so long ago at the Ray Roberts Dam.
Category: Causes, Fish Kill, North Texas, Science and Environmental