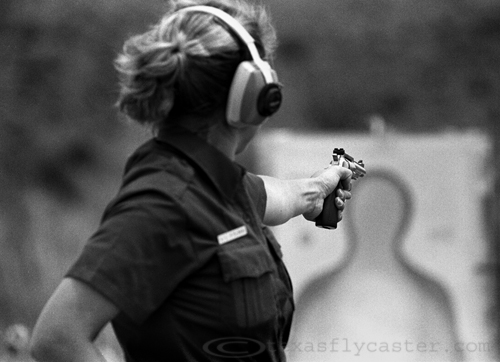 Target practice at US Border Patrol Range circa. 1987 – photo by Texas Fly Caster Shannon Drawe.
I have been waiting to pull the trigger on my own "Travel Advisory," but I think now would be a good time to let those of you who think it's "safe" along the Texas – Mexico border know, it's NOT safe.
I am from the border region known as The Rio Grande Valley. If you haven't been there, there's no valley, and the only river running through it is the Rio Grande River – yes the same one I fished the headwaters of in Colorado this past summer. Growing up it was no big deal to go over to Nuevo Progresso to eat at Arturo's, walk the streets with visiting relatives looking for cheap booze, whatever. This time of year used to be a time when we noticed the "winter visitors" as they clogged the stores in Mexico, frustrated that workers didn't speak english – especially barter english, the lines grew at the bridge and you might of even had to wait to get a seat in the bar – to watch the musical fountain show behind steamed glass.
Then, in high school the more adventurous types would party in the clubs in Mexico where there were no ID checks and the drinks were affordable by high school standards – by high school standards … imagine that. Trouble could be had, but it was hard to find. Occasionally there would be reports of new bullet holes in one of the discos, but I hate(d) disco.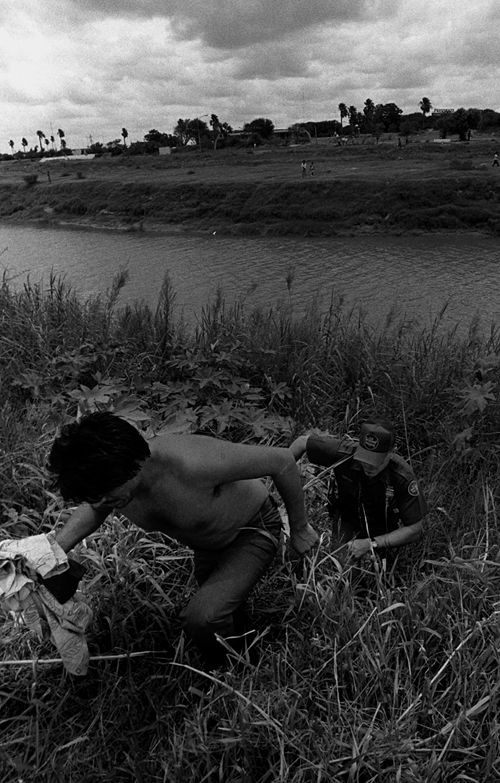 Caught. Ticketed. Walked back across the bridge. US Border Patrol work in 1987 – catch and release. – photo by Texas Fly Caster Shannon Drawe
My, how the worm has turned. All along there was the sense of Mexico – there, and the US – here. The neutral zone of the Rio Grande, and the bridges was a no-man's-land, with beggars, dust, smelly Mexican exhaust and a distinct edge. It was not unusual to see Mexicans swimming across, and back then, casually, leisurely walking into the American economy. Then, we decided it was time to "clamp down" on the borders and end drug traffic … it was all custom tailored for politics – simple, easy to understand, and easy for the news crews to cover.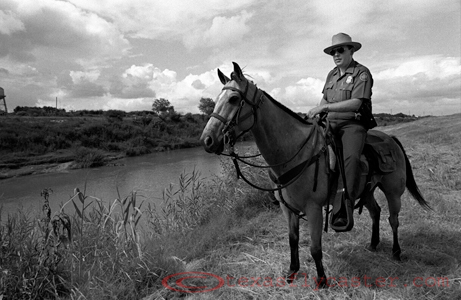 The old fashion way – patrolling on horseback along the Rio Grande River in 1987.
What we couldn't predict is what we now have; an open drug war along the border between the Gulf Cartel and the Zetas. According to friends who live in the Valley, the war is on the US side, but in North Texas we hear so very little about it. In checking with sources in Houston, the drug war is front and center in their local coverage, and one can only guess that it is because of a larger more "established" hispanic community in Houston and surrounding areas. Houston is also a bit closer to the border as well. The word I get from the border is that car jackings are happening on the streets of Brownsville and McAllen – it won't be my 27-year-old Land Cruiser they're after. They are after high end Mercedes and BMW's that can't be stolen while sitting (due to new technology). They are also kidnapping prominent people – as far as I know on the Mexico side only, and volunteering pieces of bodies as proof of life – along with FIRST demands.
All this said, we also had a saying in the Valley that goes, "The beach is not the Valley," and that is still true. If you have any form of terroristic activity on South Padre Island, the economic impact will be so devastating that the Federal government and National news will have no choice but to give it the attention it has earned. So, here's a simple advisory for those of you lucky enough to be fishing in the South Texas waters during the best winter in recent history:
ADVISORY – Go fish. Don't think you are going to go slip in to Mexico at Matamoros, Reynosa or Nuevo Progresso, and get out scott free. Why would you want to go to Mexico right now anyway? Don't go to or fish Falcon Lake.
Yes, I know I was way out in front on the Falcon Lake murder story, and that may well turn out to be the straw that breaks the burro's back, but it really is too soon to tell. Stay tuned.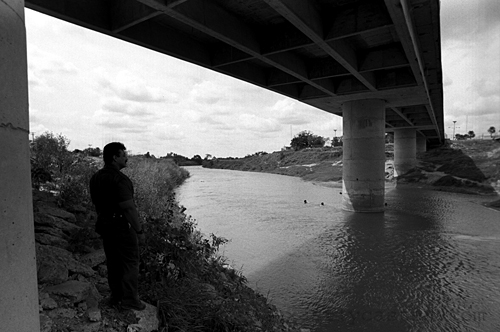 Too close to turn back, illegals simply swim into the waiting hands of US Border patrol agents under the international bridge between Texas and Mexico. – photo by Texas Fly Caster Shannon Drawe
Category: Life Observed