Back at home base now, and staring at a cup half full of half empty.
When you go a long way to salt, and all salt is a long way from here, you sometimes have to take what you get. Never mind the fact I was headed to the coast stinking from lack of fish smell (translations available on request), and knew only that there would be time allotted by others … tiny windows that would open and close at particular times whether I wanted them to or not, wherever I was at closing time.
On the way to Galveston, we stopped at Fishing Tackle Unlimited (FTU) on 45 southeast of Houston, and paid homage. If you have yet to visit a FTU store, be sure to go out of your way next time. Not only do they have specific Texas Gulf Coast conventional fishing tackle, they also have fly tackle and flies specific to the Texas Gulf Coast. And they're the best there is for Texas Gulf Coast specific fly tackle, bar none.
I was there to … don't tell any of the idealists in the TFC crowd … buy a conventional spinning reel. You see, when someone like Lefty or Flip says they always have conventional setups for when the wind closes them out, well, call me a sheep, but I listen. So, I armed my new spinning rod, a TFO Gary Loomis TRS 7043 Medium, with a new Penn reel – a Sargus SG3000, and clear ten pound mono. I wasn't going to get caught weak like I was last time at Matagorda (Salas, where is that video?). Both the rod and reel are made overseas, which somehow doesn't irk me as much as overseas fly gear for some strange reason. That's a much bigger topic for later though.
The guy in the fly department was very nice and pulled out a map to show me some, what I'll call, "touristy spots" that I was already well versed on – Offatt's Bayou and the San Luis Pass (SLP). "Touristy spots" are those designated for people with families, who don't have a lot of time, and just want to wet a line with the outside chance of rolling sevens. He didn't proclaim to know more than he did, and said he hadn't fished much since he was without a boat. – NOTE TO SELF: Boat in your future –
He said the wind (direction) was playing havoc with the water, clarity and that it would be pretty difficult conditions.
I took the map, the new reel, a few spoons gold in nature, and departed. At least I use something as antique as spoons, and not that newfangled stuff they call "plastics!" Okay, I use one brand of lures too, for salt, Mirro-Lure which I started using almost forty years ago.
It hadn't been that long since my last trip to Galveston, but that was an in-and-out where I met Salas at the Galveston Island State Park. This time there would be the family factor mentioned earlier – the factor that, based on my past abhorrent behavior, meant permanent changes to my behavior. That didn't matter because I could smell the salt and hear the waves from our room at 61st. and Seawall.
HURRICANE AMNESIA
It's hard to remember what you've already forgotten, but my first sights and sounds of Galveston Monday evening told me Galveston, in less than five requisite years, has already put Ike behind them. Crowds, and busloads, and cars, and four wheel peddlers, and pedestrians … people everywhere, hundreds that make thousands. Summer in Galveston, Texas, is not the November – December flounder run in Galveston, Texas. The place was teeming with people. License plates told the story of the USA and Mexico. Of all the places, I guess they think Galveston represents their getaway best.

ON I45 going into Galveston, Texas, after Hurricane Ike.
It was all a bit overwhelming to me. I don't recall that I have been to Galveston during prime tourist season, but here we were.
I had been in Galveston a week before Hurricane Ike and then back there within a few weeks after Ike minced the city. Some of the piers were lit, and there were new attractions lit to attract tourists like bright white bipedal moths.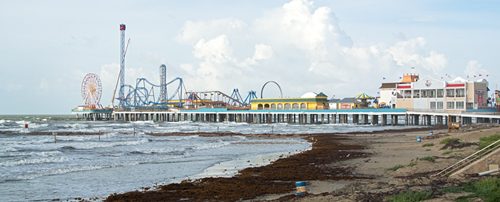 Imagine this: Galveston's "Pleasure Pier" is now in full swing. It looks great, but a direct hit from a hurricane, and it will make a great reachable reef.
This attack on the senses was already throwing my equilibrium off. Last time on salt, it was sleeping outside at Matagorda, with stars and mosquitoes for company. This time it would be a family occupied, air conditioned hotel in the heart of the Galveston beach tourist industry.
I made my marching orders though. Tomorrow, the howling wind insisted that I drive the twenty miles over to the SLP and fish the time slot and let the chips fall where they may. I would meet family there to show them one of the Tuck's Landing beach houses, and they would gather information along the way.
I was ready to get that stink off with a little fish smell, and with a little "tourist luck" something good could happen …


Scars from Ike still remain, and they aren't that hard to see. The Hunker Down on Seawall in Galveston, Texas, is for sale.
Category: Culture on the Skids, Destination Fly Fishing, Equipment, Fishing Reports, Fly Fishing for Redfish, Industry, Life Observed, On The Road, Texas Gulf Coast