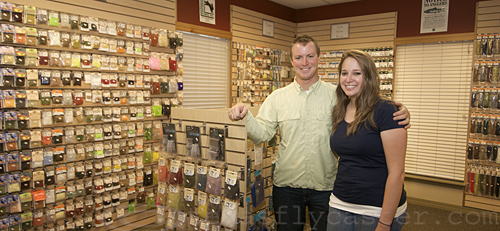 Chris and Emily at Living Waters Fly Shop.
Greetings Fellow Fly Fishers,
Time flies when you are having fun and it's really hard to believe that the fly shop has been open for 4 years already! We are so grateful to all of our loyal customers – without your support we wouldn't be here! Thank you all so very much for helping us make Living Waters Fly Fishing a reality!
To celebrate our 4th Year Anniversary we have decided to throw a party this Saturday, June 23rd. This bash will be complete with customer appreciation sales, exciting new items, different clinics and a FREE BBQ lunch! Below is the event schedule (also posted on our website) so make sure that you come to all or as much of it as you can! We look forward to seeing you here for the big day! Take care and God Bless!
Many Thanks,
Living Waters Fly Fishing Team
John 7:38
EVENT SCHEDULE
9:00 A.M. – 11:00 A.M.
Brushy Creek Stream-Side Entomology with Dakus Geeslin.
Dakus is an aquatic biologist for TCEQ, a skilled fly fisherman, and a great friend of the fly shop! His clinic will be extremely informative and will help you "match the hatch" the next time you are on the river! The clinic will be held on Brushy Creek at the intersection of Brushy Creek Rd. and Great Oaks Drive. Call the shop at (512) 828-FISH if you need additional info and/or directions.
11:30 A.M. – 1:00 P.M.
FREE BBQ Lunch at Living Waters Fly Fishing!
This is pretty much self explanatory. Eat BBQ, Tell Fish Stories, Use Napkin, Repeat.
1:00 P.M. – 2:00 P.M.
Living Waters Fly Fishing Timeline
We will re-cap some of our past events, location changes/expansions, and good times as well and share about where we are headed in the future!
2:30 P.M. – 3:30 P.M.
Lower Mountain Fork River – Oklahoma's Premiere Trout Fishery!
Many of our customers are aware of the Lower Mountain Fork but not all have fished this wonderful tailwater stream! The LMFR is really not all that far away and is a fantastic summertime destination for brown and rainbow trout! Living Waters Fly Fishing is now a licensed guide service in Oklahoma and we will be debuting our new all inclusive guided fly fishing trip packages at the clinic! Come find out more about this fabulous tailwater that is not too far from home!
4:00 P.M. – 6:00 P.M.
Fly Tying Demonstration: LWFF's Top 6 Fly Patterns
Come learn how to tie what we consider to be our Top 6 in-store patterns! All six patterns were created here at Living Waters Fly Fishing by Chris Johnson and Matt Bennett and have more than proven themselves on our home waters and beyond!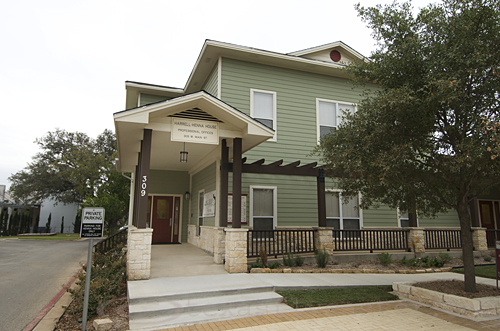 Living Waters Fly Shop in Round Rock, Texas.
Category: Events, Fly Shops, Industry, Oklahoma Report