JOIN US FOR SPLIT SECOND SATURDAY Tomorrow!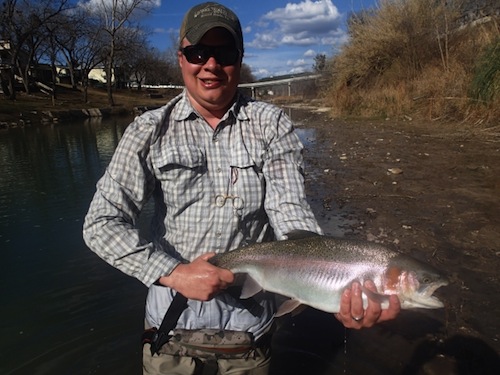 Photo Courtesy – Living Waters Fly Shop
Well, being that we just now noticed that we had nothing planned for the weekend, we have now organized Split Second Saturday! See the details below:
9:00 A.M. — Doors Open
10:00 A.M. — Late Season Trout Clinic
Chris has been guiding like crazy and the Guadalupe River is still fishing wonderfully! February and March are our favorite months of trout season! Come find out why! Chris will show you where to go, what to do, and will discuss seasonal changes in fish behavior as well!
1:00 P.M. — Brushy Creek Pre-Season Primer
We have already been seeing activity on Brushy Creek and the mayfly hatches are incredible! Bass, sunfish, and even cichlids are starting to come out of their winter haunts to enjoy warm water temps and feeding opportunities. Come learn how to take advantage of early season fishing on the creek and learn how to increase your fish numbers during this sometimes challenging time of year. This clinic will get you ready for some of Brushy Creek's finest fishing — early spring!
3:00 P.M. — Guadalupe and Brushy Creek Fly Tying Demo
Matt and Chris will be tying their favorite seasonal patterns for both the Guadalupe River and Brushy Creek. Some patterns that will be tied include: Red Fox Squirrel Nymph, CDC Biot Comparadun, Rubber Legged Hares Ear, Wilcox JC Special, and more! (Many of these patterns we have tied on Wednesday night tying nights as the Fly of the Night, so if you have missed out on Wednesdays, here is your chance to see some of our favorites!)
Call the shop at (512) 828-FISH if you have any questions about the events listed above and we will be happy to answer! We will see you Saturday! Take care and God Bless!
Tight Lines,
Living Waters Fly Fishing
follow on twitter @LivingWatersFF
Category: Central Texas, Central Texas, Events, Fly Tying, Guadalupe River, Texas Hill Country