#flyfishing texas fly fishing BOGO #uscarppro austin anderson
Your pace quickens along the sidewalk today. Here at Texas Fly Caster World Headquarters, this is the time of year when we don't take any days off. Stories will be running seven days a week for a couple of weeks, as we have a wealth of words beyond anything we've had before.
Much of the credit goes to my friend Joyce, who took the time and energy to document her recent trip to Montana. I didn't even have to twist her arm (too much) to get her to do a series of posts for us that will start tomorrow, and run over the next several days. Joyce doesn't need a bit of encouragement from me to GO AND DO. By the time I made her acquaintance, she had already been a GO AND DO fly fisher for a long time.
Be sure to go to the SURVEY page and fill that out as soon as you can. We will be making some major changes to this website content availability, and this is reader's chance to actually control their own destiny on this site – really, nothing more, nothing less. If readers snooze, they lose – the chance to complain about the changes once they come down the pike.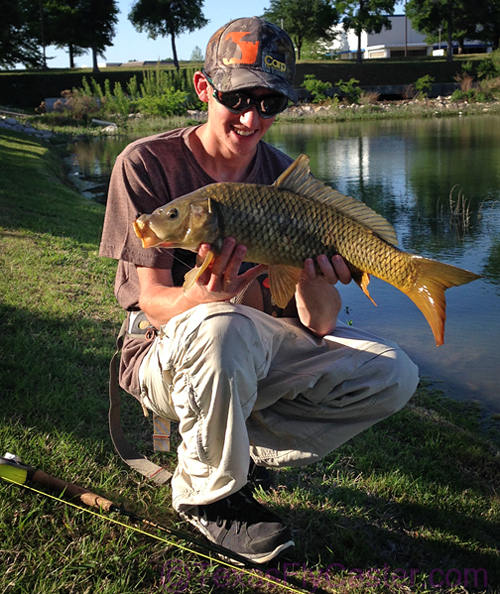 A rare sighting – Austin Anderson fly fishing for carp!
LOCAL FLY FISHING REPORT FROM THE WATER
The fly fishing for carp and bass has hit early spring stride about a month late, and if you want to get the most up-to-date notices about HOT SPOTS, be sure to follow @texasflycaster. If you followed the Instagram feed last week, you saw young Austin Anderson fly fishing in some urban areas of Lewisville, Texas, and doing quite well fly fishing for carp (instead of bird seeding them). All you have to do is ask, and I will be happy tell you where those carp laden sidewalks are. These city carp are so easy … how easy are they? As a great songwriter once wrote (in reference to heart attacks), … "They just start flopping around, flopping around like some old hooker on meth."
BOGO UPDATE
The buy-one-get-one on fly guide trips is going well! I am going to go ahead and run the video again, below – just in case you missed it the first time. We're going to ride the BOGO until midsummer. I never bail on a good wave. You can pay for those BOGOs by hitting the Paypal button on the right hand column of this website.
Watch the video on the BOGO –
READINGS
I am still working my way slowly through Gierach's latest, "All Fishermen are Liars," and I can't recall any of his books opening like this one (although I have not read all of them). I started going paperless years ago, and you can do the same at Amazon by purchasing the Kindle version which is readable on all your devices. Click on the image below to buy on Amazon.com.

HAVE A FANTASTIC WEEK, AND AS YOU TRAVEL MORE TO FLY FISH IN TEXAS, BE SAFE ALONG THE WAY.
Category: Adventure, Backcasting, Culture on the Skids, Fishing Reports, Fly Fishing For Carp, Life Observed, Literature, North Texas