texas fly fishing for largemouth bass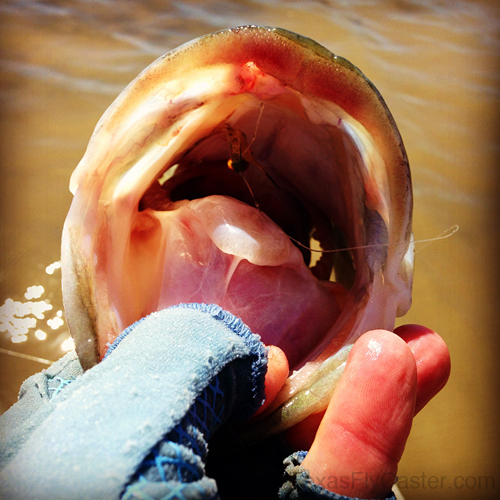 "The waiting is the hardest part," – Tom Petty & The Heartbreakers
Well, the wait for spring is over. Spring may soon be over as well, but for now the green trout are on the bite, and it's one of the most spectacular bites I can remember. A disadvantage on fly for one species has turned huge advantage for the fly fisher on another – largemouth bass.
I've never seen such clear water in Lake Ray Roberts coves, and the habitat has been so radically changed because of drought that you can literally sight cast for largemouth bass in the three to six pound range – at will, and with success!
I really go easy on this (I leave about 70-percent of the bass I see alone) because I am looking for carp in the first place, and these huge bass fanning mud clouds are doing it because it is spawn time. Catch as quick as possible, and release as soon as possible – to let them get back to business. Most of the fish I am landing are still full of vinegar when I lip them, and that means they are ready to go when released. This is one time when I don't have a problem walking away from action.
The competition is stiff. Bass boats came flying in to the cove I was in (again), and did their best to stir things up, and even cut me off wading one direction, so I turned back for home, and he cranked the trolling motor and cut me off in the return direction!
I hear occasional discussion about fishing the bass beds, but have never entertained that discussion here. I really don't know where I fall on this one. Feel free to opine —
Category: Culture on the Skids, Fishing Reports, North Texas