The fish gods must have had a hard laugh when I planned my trip last week, because instead of continuing from Port O'Connor, Texas, on down the coast to South Texas? We now have tropical storm Beta blanketing virtually the entire coast with rain and predictions for South Texas are for the most rain to be where I was heading. Oh well …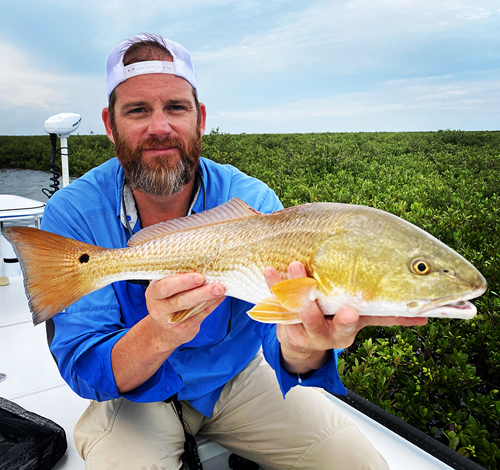 We did do some good fly fishing last week, and I did some solo marsh time – me running my skiff with new jackplate in much shallower water and with much less worry about bottoming out. Of course, the fish gods helped and hurt at the same time. There was a ton of extra water in the bays around Port O, water that was driven by the freakish northeastern wind, piling up over a foot of high water and pressing the tides to a near halt – barely letting any water out on the outgoing. 
All the gear, and technical stuff needed to get one of these trips off and rolling – worked fine. The new flies I threw – big bait patterns, synthetic with rattles? The millions of trout in the bay destroyed them – one at a time – not because there was anything wrong with the fly, but because of shear toothy aggression. The shattered flies are now just a thing of beauty, redesigned and rearranged beyond recognition.
So many of the factors that are taken into account for the Texas Gulf Coast were in play; tides were way off, winds from a strange direction, clouds were mostly constant and seasons are in the flux of change. Even with all that we caught fish and saw fish – bull reds in fact, searching for their herds, to congregate and make their way offshore for the season.
DITCH TARPON
I also took the time to find the ditch tarpon. And that was a real 200-plus mile sidetrack fiasco, as the famous ditch is now overgrown with trees that make it impossible to fish anymore. That was a sobering find. I had high hopes (see today's article title) of getting that tarpon itch scratched in a rather doable way, but the answer from the fish gods was a resounding, "NO! You're going to have to do it the old fashion way, in the Gulf with a boatload of luck on board."
So as the rain bears down on Texas and North Texas from tropical storm Beta? Here we are planning for another attempt at a long salt haul and getting the images from last week ready for the next video. What I wonder is; how can we be so busy and fly fish so little?
LOVE THE ONE YOU'RE WITH
There's a remedy for that of course. "If you can't be with the one you love, honey love the one you're with," is what Stephen Stills sang in 1970. And that is what I always do. We will push the limits of carp season as we discovered years ago – it reached into early November if the heat holds up. Regardless, we're going to get a look.
HATE POLITICS? STOP READING HERE
Thanks for reading. If you're a Facebook person who gathers information about fly fishing or any other "news" there, remember I am shutting it down again for the last quarter of 2020, just as I did for the first quarter of 2020. I strongly recommend you do the same in the greater interest of the USA. Just LOG OUT OF FACEBOOK, and get your information the safe way: Visit independent, free-standing websites that do not harvest your information or feed you fake news from the Communist bots. You will not lose your information if you log out, and you can log back in after this is (the election) all over and done.
Category: Body-Mind-Soul, Culture on the Skids, Fishing Reports, Fly Fishing for Redfish, Fly Fishing for Trout, Gulf Coast Report, Life Observed, Saltwater Fly Fishing Texas, Texas Skiff