Do You Feel Lucky? Well you don't have to be lucky to keep your fly line in line and on deck anymore. I have just put the new 6 by 36-inch model on the market, and it is a game changer.
In my use and with the feedback of users of my original round mat, I came to the conclusion that some fly fishers, many in fact, want to never think about HITTING A TARGET with their stripped line. That is what drove my creation of "The Clint" fly line mat.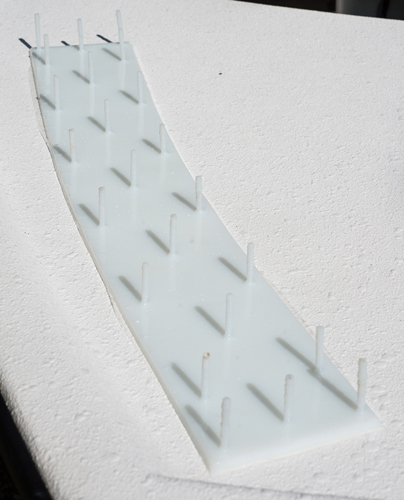 At 36-inches long, it is the longest single piece fly line mat on the market today – PERIOD. In wanting a new design that would also have the weight to support the longer nibs, I settled on a round, be it English 6-inch number for the width. So at 6-by-36 this line takes more material (uv and heat enduring rubber) to make. I also learned along the way how to gravitate the rubber toward each outer edge of the mat making the center thinner than the edges – we'll just call it magic.
Last and not least, I include hash marks on the edge so that you can measure from one edge – ZERO – to the other edge 36 – in one inch increments. I'll admit the marks are subtle, but the reality is we do not measure fish all that often, do we?
So now all you have to do is move your cursor over to the left hand column and click the box for which model you want, and follow through with the dropdown if you are interested in a particular color.
SHIPPING ON ME UNTIL OCTOBER 15 2020
If you order either model fly line mat before October 15, 2020, I will still pay the shipping and handling on your mat! That is a $15-dollar savings that won't last much longer, so TAKE ADVANTAGE today!
Category: Equipment, Fly Lines, Industry, Store Merchandise, TECHNICAL, Texas Skiff