texasflyfishing flyfishingintexas #flyfishing texas fly fishing

THIS IS A FREE READ! Click on the top HEADLINE to OPEN the story!
Good morning! I hope you arrived at your Monday morning destinations safe, sound and ready for another exciting and diverse week of fly fishing stories and video – coming from right here at Texas Fly Caster. For the record, today is the last full day of summer, and that means we say goodbye to my favorite season of the year. And this year marks the beginning of my efforts to like, accept and adapt to what fly fishing offers us in the winter months of the calendar. A North Texas fall really does not fit any concept of "fall" in any other part of the United States. It could be hot, it could be cold, it could be wet or dry – we never know. All we do know is that there are a couple of things we can count on for happening this fall.
FIRST – A REWARD FOR PAID SUBSCRIBERS BEGINS NOW!
There will be a monthly drawing, the winner chosen from Pay-Per-View subscribers, beginning in October. All Pay-Per-View  subscribers are entered in a drawing for a YETI 30 oz. Rambler, the first one to be given away at the end of October. As more subscriptions come in, I am more than happy to up the ante – to show my appreciation to those of you who choose to enjoy the premium Pay-Per-View content. These Yeti Ramblers are hard to come by, but I am getting line now to get a good supply! *Rules and stuff will be coming out soon!*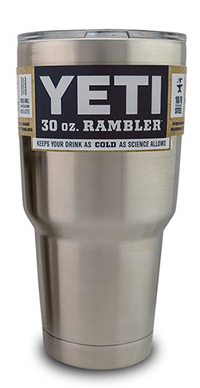 FALL FORECAST
One of the things we can count on, is for the lurkers and talkers to build a deafening buzz about the "Texas Trout Stocking Schedule" that is announced every year by the Texas Parks & Wildlife Department. The advertised purpose of stocking helpless pet trout by TPWD is to give youth a successful fishing experience. All you need is some of those power bait balls, and you, your children and friends can take all the put rainbow trout you want – within limits of course. We publish the TPWD Trout Stocking Schedule here every year, but the State's pattern is really set; look at past year's schedules and you can easily figure out this year's schedule.
Another thing we can count on, is for a last "fall feed" of bass on area lakes as those bass prepare for deeper water winter months.
We can also count on a big buzz about the fly fishing opportunities on the Texas Gulf Coast. There's the flounder run in November, and we will see if this year's run benefitted from last year's regulations and a below average harvest of the tasty flat fish. I've seen redfish schools the size of half a football field (an easy Texas visualization) off the jetties at South Padre Island, and many more inspiring things along the Texas coast. October is not a month to sneeze at when it comes to saltwater fly fishing on the Texas Coast.
This fall, we already have a unique end to the carp scene – already ended here on Lake Ray Roberts – nearly three months earlier than is typical for that water. Carp are still on the scene, somewhere. I am still researching and looking for a "marine biology-type" to take water samples at Lake Ray Roberts – to put scientific fact to my theories on what happened to the carp population at Lake Ray Roberts this summer. Any volunteers to take water samples, and run tests? I wondered (in a story) many months ago; "What will happen when the water moves back into all the green growth … (where the carp flats once were), and now I think I know.
This fall also marks our heightened awareness and participation in fly fishing the trout populations on the Blue River and in Beaver's Bend, Oklahoma. It should culminate, as the parallel universe of preparing the Airstream Trailer (see www.airstreamdiary.com), finally ramps up with the completion of a years-long ground-up restoration of our 1970 Airstream. If all goes as planned, we will be relocated in the Airstream, in Oklahoma, in January 2015. Who knows though? When your home is where you stop … we could just as easily broadcast from the banks of the Guadalupe River this winter.
NOTE – The fall forecast is subject to change, just as Texas weather is subject to change! Keep reading for revisions.
THE REST OF SEPTEMBER INCLUDES –
It's hard to tell how this week will turn out! I do know there is a backlog of stories waiting to be posted here. They include:
– HOT Fall Striper Action by Steve Hollensed – FREE READING
– Chano's Fly Fishing Adventure in Port O'Connor Texas – PREMIUM CONTENT
– A HOT SPOT Report on a great saltwater jetties close to Houston – PREMIUM CONTENT
– The difference between Mustang and Muscadine Grapes – PREMIUM CONTENT
– Pecos River rainbow trout + Reel Fly Santa Fe Fly Shop – PREMIUM CONTENT
As always enjoy the "FREE READS" and a personal thanks to my fly fishing friends for becoming a "Subscription Reader" as well! Have a fantastic week, and be sure to send in your fly fishing experiences – words and photographs – to share with readers here at Texas Fly Caster.
And if you are one among the Facebook demographic, be sure to follow along as information goes from this website to the Texas Fly Caster Facebook Page on a regular basis. The Texas Fly Caster Facebook Page also gleans a lot of information directly from those guides who only use Facebook to publish (to Facebook members) their reports. (Heaven help them for pumping all their valuable content into a dying and doomed platform.)
Category: Adventure, Backcasting, Complimentary Reading, Fishing Reports, Fly Fishing For Carp, Fly Fishing for Largemouth Bass, Guides, North Texas, Oklahoma Report, Saltwater Fly Fishing Texas, Texas Gulf Coast