TEXOMA FLY GUIDE REPORT
Complimentary Report – Courtesy Captain Steve Hollensed –
Coming off of a cold persistent spring, summer patterns were  slow to develop. A partial threadfin shad die-off due to cold weather last winter and a slow lake warmup this spring resulted in a late threadfin spawn. The stripers seemed to love the cooler water but the change in shad availability did change their feeding locations. During early summer the shad were more concentrated in the major coves and as a result the stripers stayed in the coves and shallow water areas much longer this year.  Great topwater striper fishing was to be had in the backs of the coves in shallow water as late as mid-June. A very unusual pattern…but a very productive pattern for the fly fisher.
Current Conditions:
Currently the lake is about 6 ft. low with very good visibility over most parts of the lake.  Over the last few weeks I have been patterning fish on sandy points and sandy banks in the mornings. If the wind is blowing into the banks the fishing is better and will often last as long as the wind blows. At times we have seen schools of stripers move as shallow as six inches chasing bait onto the windy bank. During calmer conditions the fish are moving out into deep water to chase bait and the topwater action continues.  The highlight of the summer however has been the large schools of big stripers that have been roaming the lake…all are probably 5 to 20 lbs. Of course they are more difficult to pattern than the smaller fish but when these brawlers turn on you are in for some great fly fishing!
FALL OUTLOOK:

Texoma is known mostly as a "numbers" fishery. We have lots of stripers. However, this winters gill net survey indicated that 38% of the striper population is 20 inches long or longer. The highest value in the history of the fishery. These are the aforementioned "brawlers"! Because of the high number of big fish in Texoma now and the increasing number of baitfish becoming more available to the striper this fall I am looking for an excellent fall season of fly fishing.
Booking for Fall:
Fall is often thought of as the best time to go striper fishing…and for good reason. Fall weather and fall colors combined with active fish and birds acting as scouts…it is a great time.
I have very limited days remaining for the fall season so just call or email soon to reserve your time on Texoma.
Sincerely,
Captain Steve Hollensed
Orvis Endorsed Fly Fishing Guide
IFFF Master Casting Instructor
EDITORS NOTE: I can certainly testify that the striper population in Lake Texoma is large, healthy and hungry. I caught my largest ever, a thirteen-er earlier this year (on conventional tackle), and the record for fly was reset early this year.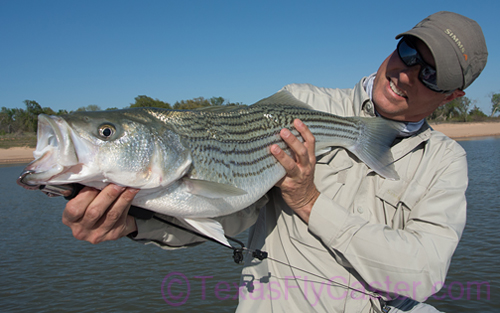 Category: Complimentary Reading, Fishing Reports, Guides, North Texas