texasflyfishing #skiffnation Hero 4 GoPro #gopro carp on fly #flyfishing texas fly fishing flyfishingtexas zebra mussels causing low ions Lake Ray Roberts Texas?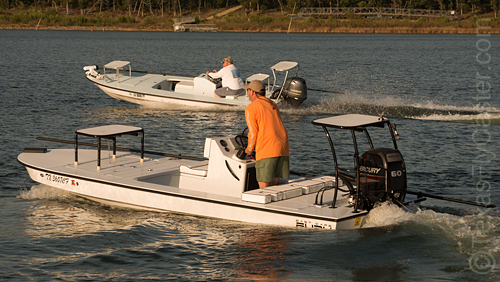 Just another day on Lake Ray Roberts, Texas. Including an East Cape Fury,  a Chittum Skiff, a little carp tournament and …
Good morning and welcome from wherever you are – to the Monday Morning Sidewalk, a weekly report on fly fishing and other things Texas. If you arrived safely to your destination this Monday morning, then your battle against daily danger is half over, and you're probably ready to catch up on what's going on in the Texas Fly Fishing world.
GREENBELT ALLIANCE EVENT
This past Saturday was dedicated to getting the fly fishing word out at an event called the Greenbelt Alliance GreenFest, and it was held at the FM455 Lake Ray Roberts Greenbelt Park, just below the Dam. There were plenty of visitors, and I learned this was the first GreenFest to not be rained out. The first two years were called because of rain. Meanwhile around here we are about to conclude the driest September on on record.
I put on casting demonstrations, handed a fly rod over to a few kids who never held one, got a few older folks casting and spent time tying flies and talking to a bunch of kids (there with their families) about fly fishing. I was certainly surprised with the interest, and of course answered the age-old question, "You can fly fish in Texas!" time and time again. I love that question. It allows me to bloviate to the max. Showing one little person something about fly fishing is reward enough for me, anytime anywhere, but I gave a couple of flies away to youngsters who have some fly fishing experience, and probably managed to get a few dozen kids to think about fly fishing for at least a couple of minutes. Mission accomplished.
LAKE RAY ROBERTS CARP GOLD CUP
I prefished the Carp Gold Cup (last Thursday) with a friend who was competing in the event Friday and Saturday, and I was happy to be on the casting platform of his East Cape Fury while two other competitors were on the lake in a Chittum Skiff and another team running a Hell's Bay Whipray. I was there for my own personal reason – to actually see carp, which had disappeared just a few weeks after the July rain events that raised Lake Ray Roberts five feet in less than ten days. And we did find fish. We saw lots of buffalo, hundreds, and we saw very few, way too few, carp. The carp we found were 200-yards offshore, not 199-yards, not 100-yards, not 100-feet.
In the final visual piece of what happened to carp, the carp season, on Lake Ray Roberts in 2014, I can say that a formerly healthy and vibrant walk and wade area (one of the best) is devoid of carp onshore – not one. This is true all along the shores of Lake Ray Roberts, and has been so for several weeks. IT LEAD ME TO have to actually cancel scheduled trips for carp and call off the rest of the carp season for Lake Ray Roberts.
SO WHERE DID THE CARP GO?
I don't have any kind of whizz bang technology that tracks the movement of carp, but it's simple to tell you where they aren't; they aren't where they always have been in the past, and they've been gone months earlier than anytime in the past. Sure I have seen them in places accessible by kayak and boat, but they're not on flats, humps or spots we typically have an equal opportunity or advantage over the wary carp.
The day before I took the observation ride on the East Cape, I took a water sample from the Lantana Flats on Lake Ray Roberts, sealed it and delivered it to my crack team of scientists at Denton Ryan High School for testing. The first thing they marveled at was the clarity of the sample (1 litre) I delivered to them an hour after taking, and it wasn't long before the test results started coming to me via e mail. Now I'm no scientist, so I will just give you what they gave me, and you can take it from there.
"The conductivity number is really low, like less than tapwater." I found out what conductivity is:
"Conductivity would indicate dissolved ions (minerals) in solution…pure water (deionized and distilled) does not conduct electricity…doesn't have dissolved ions… Usually we find water at about the 1700-2000 MicoS level…tap water has your typical chloride, fluoride, calcium, and other additives that make it potable and good for your teeth without having to distill it (which would significantly raise your water bill) …these additives raise its conductivity to similar levels (also why you shouldn't take a bath with your toaster).  Lake water should have similar ions as well as nitrates, carbonates, phosphates, iron, sodium, potassium and other minerals.  These are typically nutrients for planktonic organisms (think fertilizer for plants).  Low conductivity suggests it's missing  something…perhaps calcium….used to build shells?  It's probably too early to jump to that conclusion without further 
testing
 to identify what should and maybe shouldn't be there.
These minerals do cycle seasonally as well  and could be thrown off by zebra mussels or a huge influx of rain like we had last month.  I'd be interested to 
test
 a shallow water sample as well as get a plankton trawl out there to see if either might shed a little more light on the picture. –
Conductivity is a function of dissolved ions in solution. Water in a natural environment will carry X amount in solution and have a certain , predictable conductivity.
If they're missing, SOMETHING took them out."
Thanks to Denton Ryan High School scientists for their time and research. I hope the more powerful labs at the University of North Texas and Texas Woman's University, and even TPWD biologists are reading today.  – Shannon
GoPro Hero 4 ANNOUNCED
GoPro is not going to just sit around with the holiday season coming. Now a billion dollar company, Founder and CEO Nick Woodman introduced the Hero4 this morning on CBS Morning News. Each frame is an 8.3 meg image which means each frame can be pulled as a still image. I know what that means – let me know if you are interested in learning more about the GoPro platform. I would say they are rolling out these camera upgrades faster than their older audience is willing to participate in upgrading, but I could be wrong. Anybody want to buy my Hero 3? I wonder if the accessories cross over? I haven't seen many fly fishing websites that have been as deeply involved in the GoPro revolution as this one, and I am always looking for a reason (ie. catching fish!) to strap mine on, or stake it out.
THERE'S PLENTY OF NEWS HERE, plenty of newstips for those writers and editors checking out this morning's free reading! I appreciate your acknowledgement, of where your stories are derived, as they are published. If you are interested in deeper information on any of these hot topics, feel free to contact me.
Category: Causes, Culture on the Skids, Events, Fishing Reports, Flats Boats, Fly Fishing For Carp, North Texas, Science and Environmental, Speaking Engagement, TECHNICAL