Tag: fly fishing for sand bass
fly fishing sand bass carp lake ray roberts texas fly fishing
Good afternoon and welcome to the sidewalk! I intentionally let the controversial story, my opinion piece on bow killing carp, to linger awhile this morning so that the bulge of readers that show up Monday would have a chance to read it before it slips from consciousness – and down the page. Monday is the most popular read day at Texas Fly Caster. Enough of the backcast … let her fly.
AROUND HERE
There's a serious amount of change going on on the water around here. The drop on Lake Ray Roberts has put the carp into a tailspin, and conditions have brought out the huge schools of sand bass to play on the lake. Fish who don't run as shallow, specifically buffalo, are all over the flats flaunting their ability to ignore flies of any flavor. How frustrating they are!
Largemouth bass are everywhere to be found, and schools of schoolies are becoming common place on points and roving around in coves. It doesn't take long to distinguish sand bass breaking topwater from schools of bass doing the same thing – it just looks different. Maybe this has been commonplace in the past on Ray Roberts, and maybe being on a boat has allowed me to finally witness it, but this is the first time I've seen it on this lake, and it's becoming commonplace.
This sand bass action is early and late, and the birds have not yet tuned into the surface action, so looking for birds is not the sign of fish – yet. The schools of small sand bass greatly outnumber the large sand bass — in school sizes and numbers in the schools. That said, I did find a school of "trophy" size sand bass Saturday evening, and we followed them for about a half-mile.
If you are a fishing dad /mom, and looking to get a son or daughter into fishing, or even better, fly fishing, I am going to do some sundowners that run from 5-pm to darkish for a very special rate – conventional or fly, starting this week. We will be specifically targeting these sand bass. Call me at 9four0-3eight0-0four0eight for details today!
If you were thinking about booking a carp trip, please take another look at the "GUIDE" page to check calendar dates. The available dates have changed considerably.
Thanks for reading! Have a great week, but remember to check back here during the week for new content, videos and information on fly fishing in Texas.
AND YOUR HOTSPOT IS!
If you just want to go chase sand bass whack-a-mole style, your point of contact is
texas fly fishing sand bass on fly north texas sand bass #flyfishing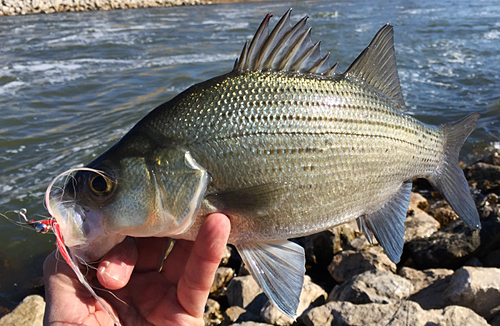 With these long running flows coming out of local lakes, I figured it was time to see if all that water combined with this yo-yo weather was producing any fish activity. Sure enough, my second cast with one of my Clousers on a circle jig hook set true in the lip of a large sand bass. There's more …
FISH FLASH
Plenty of Texas fly guides make plenty of money booking clients for this kind of action. Do you want me to get you to this spot and show you the techniques that will help you catch these fantastic, I mean LARGE, sand bass, and maybe some great hybrids? Well, I am available and you can contact me by e mail at fly@texasflycaster.com.
If you want to DIY it, go ahead and spend that dime, and go catch some fish! —
Uggggghhh! For whatever reason, the de-facto compressor of all things video – YouTube – has chosen to default all videos I upload to the Texas Fly Caster Channel as "Private," so feel free to watch this video again for the first time, and the best way to get through this (if I'm not mistaken) is to go to YouTube and suscribe to the Texas Fly Caster Channel. If you do that, you will be notified of new videos without having to come to the site – although I would have no clue why you wouldn't want to visit the site! I apologize for this inconvenience.
Later today I will be running a story on the iPhone 5. Is it the best fly fishing camera ever?
Visit the TEXAS FLY CASTER YOUTUBE CHANNEL