texas fly fishing sand bass on fly north texas sand bass #flyfishing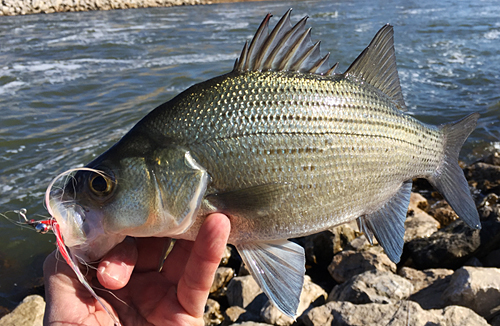 With these long running flows coming out of local lakes, I figured it was time to see if all that water combined with this yo-yo weather was producing any fish activity. Sure enough, my second cast with one of my Clousers on a circle jig hook set true in the lip of a large sand bass. There's more …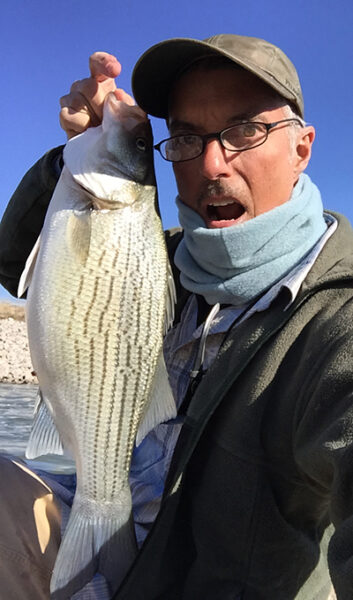 FISH FLASH
Plenty of Texas fly guides make plenty of money booking clients for this kind of action. Do you want me to get you to this spot and show you the techniques that will help you catch these fantastic, I mean LARGE, sand bass, and maybe some great hybrids? Well, I am available and you can contact me by e mail at [email protected].
If you want to DIY it, go ahead and spend that dime, and go catch some fish! —
[ppw id="123683823″ description="February Fly Hot Spot in North Texas" price=".10″]
HERE'S WHAT YOU NEED TO KNOW BEFORE YOU GO
WHAT – Sand bass to 15 inches. Hybrids that can reach 10 pounds.
LOCATION – Below the Ray Roberts Dam.
CONDITIONS – Large water releases. The fence on the west side needs to be in the water.
WHERE – On the west side riprap. Do not cross that fence!
WHEN – It could be on all day, but early and late are your best bet. These fish come though in waves, perhaps schools. That means the bite is ON and OFF for periods of time.
HOW – Cast across the current. You'll need fifty feet minimum. Strip out more line for a long dead drift. Mend the line as needed – in order to keep the fly out in the current. Wh en the fly finally swings, and the line comes tight, pay special attention to the tension from the current. That's how you vary your retrieve. Retrieve early, and you're pulling through fast current (high tension on line). Retrieve late, and there's no tension, and even some back flow that could push the fly back toward you (not what you want). If you are close to the edge, with a medium resistance, that's good.
EQUIPMENT – A 7 or 8 weight is in order. The sand bass head for the current, magnifying their pull exponentially. And the hybrids (HBombs I call them)? You want to have all the backbone you can find, and hang on for dear life. I was throwing my sand bass fly – the red over white Clouser tied on a circle jig hook because I wasn't even expecting any hybrids. My hybrid flies are typically on an expensive and extremely aggressive Timeco 600SP hook. I've documented the effectiveness of these hooks on hybrids years ago, and no other hook has come along to do any better job. These hooks  go through the hard inner mouth lining and even the bone of a hybrid's heads.
Surprisingly though, I did catch a hybrid, a little more than five pounds worth of never quit. The circle jig hook did its job, and actually had great penetration too. This fish took the fly while it was still on the swing … The line looked hung, so I started the retrieve while the fly was still out in the middle, only to find the circle hook had done its job and the hybrid was ON! In my world, one hybrid does not a pattern make. So, I will try again over the next few days, to see if I can actually catch more of these huge fish, and establish a pattern. Depending on how long you've been a reader, you may not know I caught a TPWD State Record hybrid at this location many, many years ago. Unfortunately, the photographer I had come out to document it, blew the images, and that ten-pounder swam off into my history book, the chapter on Pain.
Take yourself a towel too – to cover the rocks and keep your fly line from falling between the rocks, which is one of the most frustrating things in the world.
This is rock hopping on the riprap, so firm foot grip is important. Take a walking or wading stick for an extra leg of balance. If you're going to keep some of these huge sand bass, hang your stringer off the south end of the riprap. Otherwise, the stringer or fish, could get lodged in the rocks – there are some real waves rolling in.
Don't be surprised if you find someone fly fishing over on that west side. I've done enough free stories about it in the past, that I've even run into readers there – more than once. And they drive in from all over the Metromess.
Good luck.
[/ppw]
Category: Culture on the Skids, Fishing Reports, Hot Spot, North Texas, Paid Reading Content