Monday Morning Roundup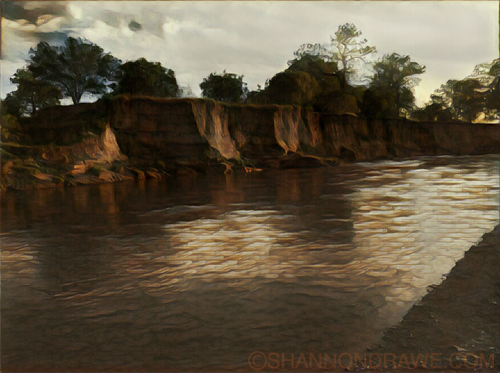 The Guadalupe River outside Seguin, Texas. 2017
Back in the saddle again this Monday morning! I've been out of North Texas, and can tell you there has been plenty of rain down in Central Texas that was beginning to settle and clear by the time I left the Seguin area last Saturday.
The San Marcos, the Guadalupe, and other rivers in the middle of Texas, had the bulge of water from locally concentrated, intense rains (water rescues and all), and the locations where the rain fell with intensity – cleared quickly but sent that bulge downstream.
Last night we had a rare dead calm evening, almost too calm, like those times before the hammer drops. I guess we'll find out when the day gets heated up. It's hard to believe it's April and feels like May, but that's the world nowadays.
There's plenty of searching going on behind the curtain here – looking to find topics as popular as this well-worn Monday Morning Sidewalk column. And I'm open to suggestion! It looks like the "Water Wednesday" report is changing from a weekly to a less regular slot, and I am looking to fill it with a new HOT topic that'll drag your eyes back here Wednesdays.
HOT HOT HOT
The conditions are so good I have to believe fish are going off all over North Texas, and we're going to see if that is true starting this week. The research leads a lot of directions, and most of them involve dealing with insane traffic conditions that engulf the DFW Region every single day, and almost every hour of the day. It is such a negative prospect that I'll probably head any direction that doesn't begin with the letter "S" – just as so many  of you don't want to head "N" either.
Of course I have information on good action south of DFW, and hope to work my way down – as far as possible – in the next few weeks. You know how it is though; there are a still a lot of other getting in the way.
Two places, one south and one southeast, are Lake Belton and Ray Hubbard have quite different things going on; Belton is on the hot bass list, and Hubbard has some carp habitat that looks immense from satellite level, and based on a local (local to Hubbard) subscriber's detail.
REMEMBER TO SUBSCRIBE
Remember that annual subscribers to this site get discounts on guided trips, at Pops Fly Shop and you also get personal FISH FLASH notices that contain detailed information and locations for places to catch fish, or special deals on HOT local guided trips.  Monday is subscribe day, when I open the gates to this site for all the world's hackers to access – just so you can access and complete that subscription with the greatest of ease. What more do you want?
GUIDED TRIPS – SCHOOL TEACHERS PLAY HOOKY WITH A HOOK!
The new information sheet for guided carp adventures 2017 is done, and I will be glad to send that to you upon your request. It's not too soon to book (that is certain), and it really isn't too soon to set a date for this month! And for those who missed it, I am giving a deal specifically to public school teachers: PLAY HOOKY WITH A HOOK! weekday teacher discounts that are enormous.
Download the NEW INFORMATION HERE – CARP ADVENTURE GUIDE PDF.
Category: Adventure, Central Texas, Complimentary Reading, Culture on the Skids, Fishing Reports, Fly Fishing For Carp, Guides, Hot Spot, North Texas, On The Road