texas fly fishing guide carp #flyfishing #texasskiff
by
+Shannon Drawe
+Texas Fly Caster
Good morning to you, from here, to wherever you are in the world. It was a welding weekend, where new updates to the Fly Bar were fabricated and installed. New parts [ppw id="133618892″ description="Texas Fly fishing and Gyotaku Printing" price=".10″]
have even been ordered for the old reliable Jenn-Air grille, parts that should give it another dozen years of culinary delights. It's time to get ready for the summer outdoor activities (other than fly fishing), and even a gathering of the new ntXff group later this month.
What is ntXff? It's a loose coalition of fly fishing folks who have an interest in gathering, not to go to meetings, but gathering to go fly fishing. More information should be surfacing in coming days. Contact me if you are interested … NTXFF stands for North Texas Fly Fisher – no "s" with emphasis on the individual.
I made a fly tying video! How rare is that? It's actually for a guy who wanted to catch carp in muddy water situations where the carp are head-down stirring up even more mud. That is a tough situation, but I have had good luck with the particular fly I demonstrate on the "Stupid Simple …" video. Regardless of my opinion of fly tying videos, they are extremely popular, and even the famous "Coyote Carp Fly" video done years ago has chalked up 27,580 views. I have a newer variation of the Coyote Carp Fly, but … making a video? Well, at least the decks are clear to shoot it on the Fly Bar … someday in the future. Maybe I can work some fly tying into the "agenda" of the first ntXff gathering? The Coyote had no problem enticing the fish below.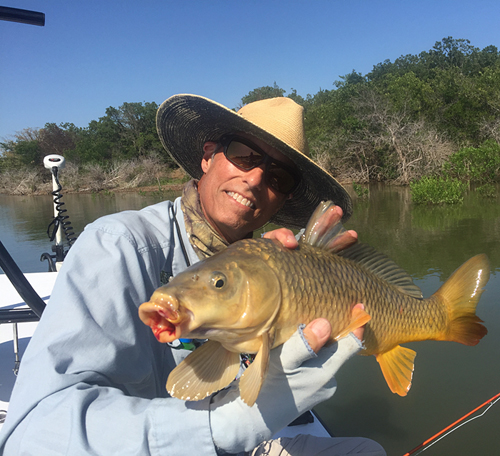 I did a ride-along with JB aboard his East Cape Fury last Friday afternoon, and took him to a skiff-access-only spot. First cast of the carp season off the Fury, aka. Plymouth, and we had a sweet golden bone aboard.
I'm not sure how many ways I can tell you the carp season is on and epic, and subliminally send the message – IT'S TIME TO BOOK a trip if you are ready to step up to the challenge of carp on fly. For now, there's hardly a need to keep repeating myself, and keep heading out on the water to document / duplicate the obvious. So, we're saving room on the calendar for more unusual outings to different locations. And I always have room for photography work, and even some new welding projects – welding yard / fencing / gates and non-structural projects. Less I stray off topic, there's also Gyotaku printing of your fish — when you want to preserve a special fish for your home or office wall.
[/ppw]Gyotaku is also a great way to preserve your child's first fish caught as well! Contact me for pricing and arrangements today!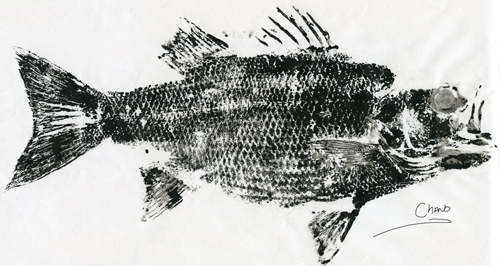 And in an effort to continually increase my economic diversity, I also started driving for a startup company here in Denton, Texas; www.wattaride.com is a 100% electric fleet of cars that are based here in Denton, and make runs to the major airports in DFW, as well as around town. You know me … I have to do my part to remove that carbon footprint and SAVE THE FISH!
Category: Adventure, Complimentary Reading, Eating and Drinking, Fishing Reports, Flats Boats, Fly Art, Fly Fishing For Carp, Fly Tying, Guides, North Texas, OFF TOPIC