texasflyfishing #flyfishing #carponfly #fishing
Good day, and welcome to the Monday Morning Sidewalk! I hope your Monday is going well, and you are indoors for the duration of the week – unless you want to get outdoors with me and chase fish of course!
Although we had some surprisingly early cool fronts in the last couple of weeks, that little party has come to an abrupt end, with the hot weather returning in force over the weekend, and continuing into this week. The winds on the waters around here have been virtually dead calm. That's great for running the skiff, but it does make the fish a lot more skittish – easier to see them, easier for them to see us! Still, the shots are all over the place, and with a little breeze, a hundred shot day is not out of the question.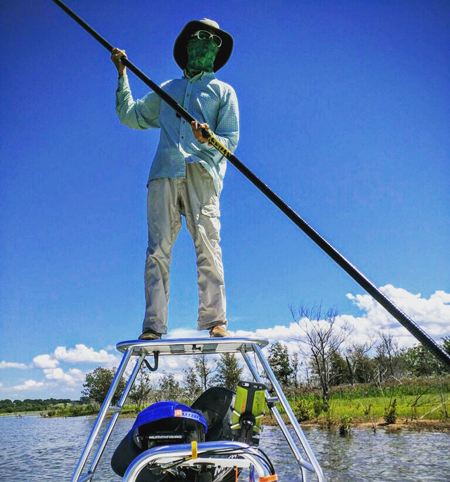 I hope you read the post on the carp tournament coming up this weekend in Houston, Texas. It's their inaugural tournament, and they certainly have an impressive list of sponsors, and I hear the list of people going is getting longer every day. Talk about some tough carp conditions; those concrete bayous force you to be as stealthy as possible, and you have to have a good eye to see the take from the top of one of those embankments.
If you are near the salt, then you know these are good times – in most places. I have not checked the latest red tide report, but last I heard it was pretty isolated along the coast. I have seen images of Texas tarpon, and the usual redfish as well as extraordinarily good speckled trout action lately.
And speaking of salt and tournaments, don't forget the Lydia Ann Fly Masters Tournament is coming in two weeks! The timing looks good for that tournament to produce some very competitive results.
I am cutting this short, so I hope you get back here or to the YouTube channel later this week, and see what's going on … it has been long enough away from doing a Texas Fly Fishing Report by now, and the subscribers keep coming. Sooner-or-later they're going to expect something, something new that is!
Have a great week, and drive and arrive safely!
Category: Adventure, Backcasting, Complimentary Reading, Culture on the Skids, Fishing Reports, Fly Fishing For Carp, North Texas, TECHNICAL, Texas Gulf Coast