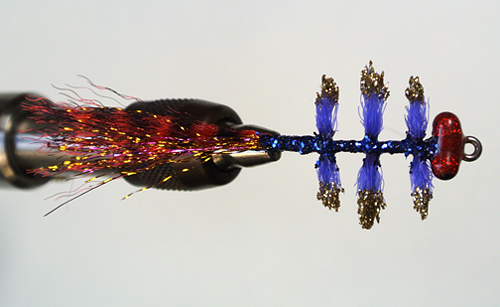 Captain Rich Waldner has a way with flies, and this one's no exception.
I managed to snag a $12-dollar fly off the counter at Uptown Angler when I was there a couple of weeks ago, therefore redeeming myself for not purchasing one when I was there for the IFTD show last year. It was $10-dollars way back then.
Fascinating to say the least. This fly is hard to track down through searching the internet, but I think it's his "representational" spoon fly. It's one that, if I read correctly, represents a spoon, but is much easier to cast because of obvious improvements in aerodynamics. It's even harder to find good photographs of this fly to go by. So, call it an expose, call it the sasquatch fly, call it what you will, but here it is.
[display_podcast]
What isn't so obvious about this Rich Waldner fly is the materials that are actually used. The hook is stainless and looks to be a Mustaad #34007 in 1/0, and the eyes are medium lead underneath a mix of epoxy and red glitter. The entire fly (except the tail) is stiff as if thinly coated with epoxy. The bundled ends appear to be dipped in a very fine gold glitter while still wet with epoxy. Overall this feels like one tough hombre.
What makes a fly worth $12-dollars? When you are completely stumped on how to do it yourself of course!
Take the time to visit Captain Rich Waldner's website, and make sure you check out Uptown Angler as well. Waldner's flies are pretty widely available and his spoon flies are also highly sought after.
Category: Fly Tying