[display_podcast]
Daingerfield is a lake I visited about four years ago, and was one of the first places I attempted to do a video "podcast" of fly fishing adventures. For those of you who have seen the original, you may want to take one last look because it's so bad, I am seriously thinking about deleting it. Chalk it up to on the fly learning, or whatever you want … the free information certainly has gotten better, more honed, over the years don't you think?
Anyway, if you are unable to view the video (and there's no reason that should be a problem), feel free to ask questions – login and comment – and I will do my best to answer them. Suffice it to say, things are not the way they were three years ago at Daingerfield. Even with the park closed for a year (it reopened last July), something seems to be slightly off on the lake.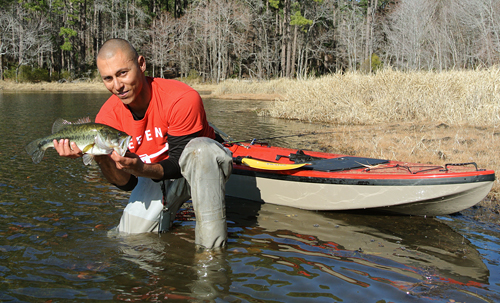 Largemouth bass record on fly rod for Daingerfield State Park outside Daingerfield, Texas.
We have had a mild winter, and spring will be coming soon(er), so perhaps that has something to do with the complete lack of bait fish right now. The water looks like it has been low for awhile, and the grass that used to be submerged around the edges is high and dry – dried to a crisp. That is the grass that chain pickerel used to use for their cover and ambush tactics. There's hardly any of that left at all. Although the largemouth bass that Immanuel Salas caught is a lake record on fly rod, and a real pig, the pickerel caught were emaciated. I have a couple of theories on that, but to give you an idea; Mr.Salas caught one chain pickerel that was about two inches greater than the current fly rod record (stands at 14″), but the fish actually weighed substantially less than the current record (less than a pound).
The most effective fly we used was, again, the Seaducer in white and red – the typical Seaducer. I tried several flies, and that is the one that generated the most action.
Enjoy the video, and ask questions – if you have any. I will only reply to questions posted in the comments. No personal e mails, or questions via the "Contact" form will be answered.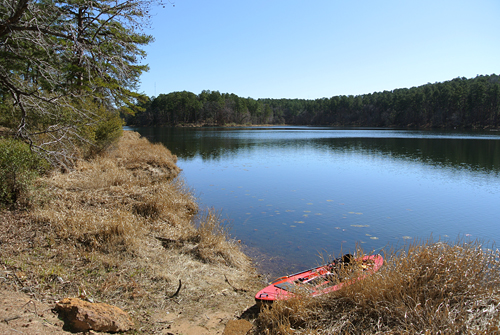 Category: East Texas, Fish Podcasting, Fishing Reports