Fish Podcasting
The Texas Fly Fishing Report
I figured you needed a little relief from my turtle head, so this YouTube broadcast is audio only – for your listening enjoyment. There are a couple of spots mentioned – gleaned from all the places I watch and read (remember last week's post?).
You never know, this particular report could easily end up as a podcast on iTunes in the future? I tried to do a SnapChat on the water the other day, and I have no idea how that works – obviously! If you are a SnapChat person, maybe we can be "snappy" friends or whatever it is that's required to make that idea go … Periscope is better right out of the box – I KNOW THAT for sure.
Have a great weekend as usual, and ALWAYS KNOW BEFORE YOU GO fishing anywhere in Texas!
Going with the flow of video somehow gets easier
This is the LONG VERSION of a trailer that was supposed to be a short version. I guess I am better doing long than short videos. Still experimenting …
---
NOW THIS IS a good video. Yes, slow-mo overkill, but well done. (Maybe I should move there, and do this "reporting?" After all, we are "Texas" Fly Casters, right?)
Somehow, the ability to share via video seems to lead to more ideas and more topics – topics that I hope interest your eyes in watching. What is so funny to me is how primitive things seem to look – video quality, recording quality, editing, audio quality – in such a short time.
I'm also looking to be more "up front" with the Fly Nation, having tried live events, and taken a look at Snapchat. It looks like it may be time to get on board with Snapchat based on the sheer numbers of young people who are now using it. When I asked one of those young people last night, "Why Snapchat?" He said, "Because it's easy. It's the easiest way to do this." The Google-Hangout thing is still so cumbersome, kind of, like, for OLD PEOPLE?
I know you couldn't tell by looking, but I do like easy technology … stay tuned.
Carp guide prospecting and Texas Fly Fishing Report Update tropical storm Cindy
GIFTS KEEP ON GIVING
The plate was full this week, and with the call to repair a local fly fishing club's website (down for several days now), my plot only thickens. AND, that's the way I like it!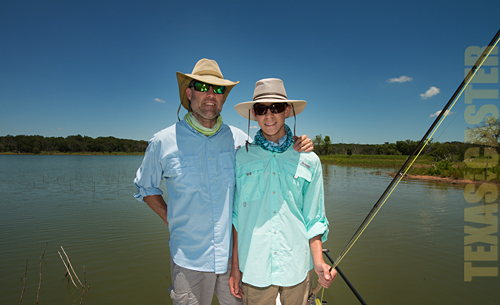 I am also getting a pretty good feed of your photographs for the Texas Fly Caster Instagram Feed – running behind, but thank you friends and readers for that! New news-tips are coming in as well, more like "you should check this out" tips really — requiring more legwork, more boat-work and more typing on these keys. Thank Goodness (that's what I should call my wife, goodness), this half broke-in laptop is now paid off! And just in time to get a check from YouTube for all those ads you watch (so I guess you will now stop watching!).
We have passed the first peak of the carp season, and are moving steadily along to the next one which will be helped along by the rains coming over the next 24-hours.
So this video is a conglomeration of some footage from prospecting for carp in preparation for the two guide trips I did this past week, and at the end is the scroll with commentary, on the Texas Fishing Reports provided by Texas Parks & Wildlife Department. I am beginning to wonder about their accuracy based on years of reading, and this week's UNMENTIONED tropical storm.
Who can blame the folks who assemble those reports really? (It's the same folks that power the once famous (now dying) www.texasfishingforum.com) The bid for that job, of providing the reports for Texas fishermen, goes to? THE LOWEST BIDDER. The State can make exceptions (Yes, I know that for those of you wonks reading this) to the "Lowest Bidder" for bids, but rarely does.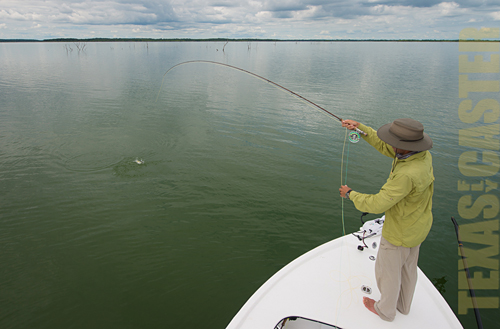 The thing about Whack-A-Mole sand bass is … at least you don't get a soggy tush, and you get any kind of bite you want – deep, mid and topwater are all contenders in this game – a game a lot like horseshoes and hand grenades.
Not only did we get on some carp this week, the sand bass are appearing on the lake – on top, and that means a great game of WHACK-A-MOLE for anyone interested — yes I can take you out for that exercise, and you can keep all the legal fish you catch. (No, I don't clean them.)The sheer numbers, many of you are into that, put other locations to SHAME again this year. I have deals starting the first day of summer, and they're called SUNDOWNERS – for those fishing, or fly fishing to eat (as I do).
Thanks for reading. I am guessing there's enough red meat here for those of you who read, and are not on your family "VACA" right now.
If you're in town, and ready to take the carp ride of your life, you know where to find me, right?