texas fly fishing lake texoma striper #flyfishing #flyfishtexas
CONTINUED FROM Part 2 Texoma on Striper Action on Fly
This slideshow requires JavaScript.
For whatever reason, the carnival barker decided – "We Have a Winner!" – and we hit a school that was holding right outside the marina on a point. The armada was already starting to congregate, and the blips were so tight (all deeper), that if you missed it by twenty feet horizontally, you missed it completely. Occasionally our radar tech (CK's Dad) would call out depths at "five feet" and that's when we were on – from 30 feet up to five. And that's when we all got a piece of the action – all on fly. I was beginning to think I was under-gunned when a three pounder sounded on me, and my eight was bent almost into a perfect U. In this kind of fast and furious action, getting these smaller fish aboard, and released quickly, can lead to bigger fish. I smell a stiff saltwater 9 in my future.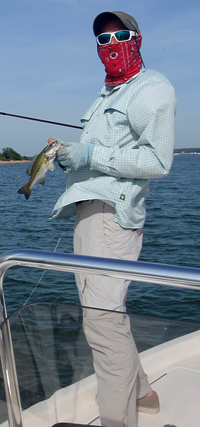 I never changed my fly, and it was holding up to a full-on assault from these stripers. Impressive little border collie. And the circle hook was relentless. I never lost a single hookup – not one! More than once, we admired the supple action the dog hair had as I retrieved it pat the boat. When that fly pauses, the tail dances. Unbelievable.
Of course there's a limited supply of this particular fly tying material, and my ability to harvest this great material has been, shall we say, regulated, by the powers that be – around home. If you have a dog with a very (I would say) out of control tail, don't hesitate to take a little (tasteful) snip, line it up and see what it does.

END NOTES –
– I had extensive conversations dockside with conventional fishers who were marveling at our success, side-by-side with them on the water, and they said as a group; the YumBrella Rigs are what is working and whether they like them or not, that's how to catch striper on Texoma on conventional tackle.
– In the meantime, I heard from CK that there was a good old fashion blitz on Texoma last weekend. Apparently he followed a train of fish into a cove as they herded shad in to the cove. I believe he said it covered a couple of acres, and had smallmouth and largemouth bass in with the striper. Imagine that!
– The Border Collie Clouser will NOT be for sale on www.popsflyshop.com!
Category: Adventure, Destination Fly Fishing, Fishing Reports, North Texas, On The Road, TECHNICAL, Technique