Tag: texas artist

Talking sixty and beyond. We look back to look forward at what we went through and what's to come on this long fly road.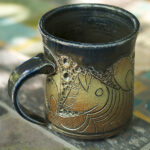 Time to mix a little art in with the fly fishing. We're on the road and in Gruene, Texas, for the annual Texas Clay Festival. It's a big event, and my first visit to the event.
Art festivals are scattered all across Texas and offer a chance to meet and mingle with Texas Artists creating original art.