texas fly fishing #flyfishing #flyfishingtexas fly fishing for bass carp on fly Ray Roberts #wildernesssystems
It was an early wakeup call here in North Texas this morning, with lines of thunderstorms rolling through, waking up humans and dogs alike. Sunday, to the south in the Granbury area, there was a biblical deluge that made all the news and added nearly five inches to Lake Granbury. You'll remember the reporting on the terrible condition of that lake? Five inches is a drop in the bucket, but it is something.
Today was going to be the first day of experimenting with the NEW AND IMPROVED Monday Morning Sidewalk video broadcast, but the location is … outdoors. So the rain cancels that out. OR DOES IT UPDATE UPDATE UPDATE –
LAST WEEK IN REVIEW
There's a wild west story coming out this week, about a shootout I had with a largemouth bass on Lake Ray Roberts. It's one of those "one that got away" type stories, but with a better ending. For some reason, that simple "fish slaps fisherman" story got long, and will run over a few days.
There was a unique kayak armada that went out to a newly emerged island in the middle of one of the branches of Lake Ray Roberts. It's not that far a reach, and the ruins we landed on, plus the habitat, made for an extraordinary experience. A drop in visit by JB was a fun break from the carp and sand bass search. There was a disturbing ending to that day though; as we were coming in at the Pond Creek Boat Ramp, a group of bow fishers was going out to kill off carp for a fish killing tournament. I don't understand it, and was completely overwhelmed by the garish boats and behavior I witnessed. Big carp make big targets. Do you wonder where the big carp are? Bow hunting poodles would be more challenging, but I don't think this hunting is about "challenge." I am willing to listen to anybody's explanation of these kinds of events.
THIS WEEK PREVIEW
It's the last full week of June. July means back to work on the Airstream as the weather finally gets hot enough. So far I've reserved a spot at next year's Texas Fly Fishing EXPO, and we're going to have some winter time in Beaver's Bend, Oklahoma, and somewhere in Central Texas this winter as well.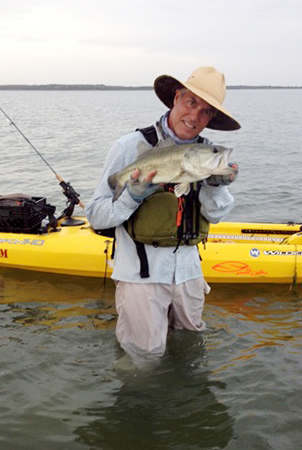 There's a fish story here! This largemouth is a match to the Lake Ray Roberts water body record kept by TPWD. Photo Courtesy – JH
I am doing Sundowners again on Lake Ray Roberts for bass at $175. Get to Denton. I'll pick you up, and we're off to the lake for some exciting topwater bass action while it's HOT. This action doesn't last forever. Pretty soon the water will be too hot, and the milfoil and hydrilla too thick. The window is wide open right now though, and the bass are flying thorough it.
For those of you who read from your homes and businesses all over Texas, please let me know how the rain is hitting your area, and how the fishing is going. And if you drive to work, or across town for groceries — be sure to be careful, and arrive safely to wherever you are going. The journey seems to always be more dangerous than the destination these days.
Thanks for reading, and let me know if you have some kind of problem WATCHING video – rather than reading the Monday Morning Sidewalk fly fishing reports!
Category: Adventure, Backcasting, Culture on the Skids, Event Podcasting, Fishing Reports, Fly Fishing For Carp, Fly Fishing for Largemouth Bass, Guides, Life Observed, North Texas, Tournaments and Contests