PARTY NUMBER ONE – Make sure you hit the Tailwaters party in Dallas, Texas, today! If you are anywhere close, and call yourself a fly fisher, why would you miss this annual Birthday Bash? They always have great deals, great food, and the companionship of other fly fishers who … tell a lot of fish stories actually.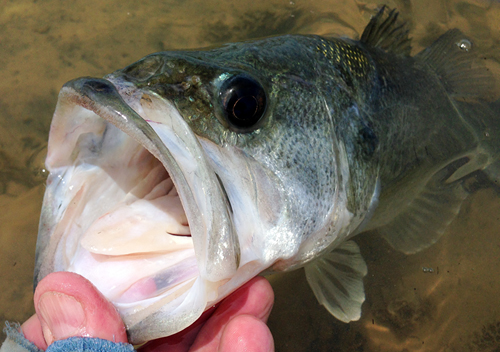 A spectacular specimen of a largemouth bass caught on fly on Lake Ray Roberts, Texas, Friday.
PARTY NUMBER TWO – I took a short wade Friday afternoon in a couple of popular spots, and all I could manage were some respectable largemouth bass. My only goal was to actually get started down the road toward some new fish art, and thanks to the cooperative fish, I'm off to a good start. I also had the help of one of the MMM's, Mandy, who delivered a beautiful crappie to my waterside photo booth.
I'll be holding onto those until I figure out where this photographic project is going, but I couldn't be happier with the initial images. Today's photo count – one largemouth bass and one crappie.
Bass are lightening up in the coves and flats, but sight casting for sizable fish – like the 3-plus pounder above, is still a viable strategy. Carp are acting all … "spawny." I saw dozens suspended, waiting for their chicks to show up, like a car full of high school buys at the Sonic on a Saturday night. There was also some of that classic whirling dervish action, with females corkscrewing through the vegetation with males in hot pursuit.
I am not so humble to leave out the fact that at two locations Mindy and I showed the buzzing bass boats with beer belly drivers – HOW TO catch BASS. Afterward, we talked about what ingredient the bass boaters were missing; we couldn't figure it out. They have all the advantages, but had none of the success. Strange.
Kayaks, or a flats skiff, should slaughter bass when conditions are like they were today. And when the carp turn on? The habitat is slowly becoming good. On a scale of 1 to 10, we are headed for an easy 6.5, and we all know what the downer is – drought. We have new expansive flats that were once too deep, but now are viable, and showing the habitat that would slime the deck of a kayak or skiff with fish.
Category: Culture on the Skids, Eating and Drinking, Events, Fishing Reports, Fly Fishing For Carp, Fly Fishing for Largemouth Bass, Fly Shops, Industry, North Texas, Photography