lake ray roberts guide fly fishing texas #flyfishing F3T Fort Worth Tailwaters Fly Shop
NEW MATH
When does 138 equal 365? When it comes to North Texas rainfall, that equation matched last week, where for the first 138 days of rainfall equals the entire 365 of 2014.
After five years of drought, it's hard to say stop, but there's a time, and this is it. It's time to stop awhile because more North Texas rain does no more good, it just goes down the rivers and out to the Gulf.
WEEKEND SOCIAL EVENTS
Last weekend was jam packed with social events for North Texas fly fishers, as Tailwaters Fly Fishing Co., had their annual birthday bash, and coincidentally the Fly Fishing Film Tour made their stop in the beautiful museum district of Fort Worth, Texas.
Tailwaters Owner David Leake knows how to throw a party, and Saturday's bash was no exception. Great deals on merchandise, and most important to me – great conversations with friends, and strangers who have  recently discovered the Texas Fly Caster website, discussions about fly fishing and the conditions we are dealing with here in North Texas this spring. More on those conditions later.
It's difficult to imagine a more beautiful venue, with a great ability to host the social and casting needs of fly fishers from around the area. A special thanks goes out to avid TFC reader, and MC Stephen Woodcock of the Backwoods Fort Worth, Texas, fly fishing department. There were some fantastic door prizes that saw a TFO Fly Rod as the number one drawing item, and that was nothing compared to the good year of film shorts we saw over the span of about 2-1/2 hours last night. There were roughly a dozen features, and I can't think of a single one that I would have left out of the collection.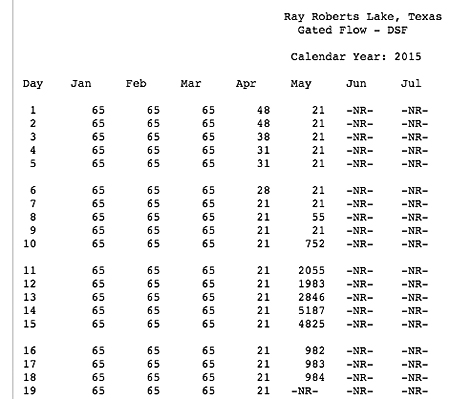 I still wonder exactly what the USACE is thinking. Look at those May flows. Why? I have unverified, but believable, information that the problem lies AT the Lewisville Lake Dam.
A FEW ANSWERS
Certainly, plenty of friends were asking about conditions on local lakes and those zones between lake chains, like the Elm Fork of the Trinity River between Lake Ray Roberts and Lake Lewisville – a specific area I call the "taint."
There was a lot of water coming out of the dam earlier last week (see above graphic), but by the time I took Salsa to have a look, the USACE had (for some strange reason) cut the flow once again. What a difference a day made – from an epic flow of 5187cfs to a more civilized 982cfs. That river, at that flow, would be an epic float on kayaks, but for those of you contacting me about the Kayak Shuttle Service, you have to realize that all the parks in the Greenbelt Corridor are closed, and have additional signs on gates saying, "NO ENTRY." I think they're serious. As soon as the parks open, feel free to contact me about a shuttle for your trip down the Trinity at the Greenbelt Corridor.
And when it comes to Lake Ray Roberts? There were and are plenty of questions about that as well. Most of them quite honestly involved fortunetelling – predicting what's going to happen after the rains. My answer: It's really up to what the folks at USACE do next, isn't it? All the vegetation we would have been doomed to hack through to get to fish … well that annoyance is several feet underwater. And it's not going to grow underwater, or survive. So, on the one hand the water is a blessing – smothering out these five years of thick vegetation on the edges of the lake. On the other hand: If the lake drops suddenly, due to the USACE, that mass will have a chance to dry out, some of it survive, and the necessary decomposition will be delayed.
Every park and boat ramp on Lake Ray Roberts is currently closed as of this writing, and they will not be open before the Memorial Day weekend is over.
THE GOLDEN LINING
I have to believe this spring's rains will leave us with a golden lining – carp opportunities that are as good as any we've had on this lake (and others) in this Century. Will we have to adapt? Yes. And that adaptation has already begun in earnest – see Lagoon Skiff Build in Cocoa, FL.
Of course there are the variables that we've come to know on North Texas Lakes over the years – a) zebra mussels that clear water extremely quickly, b) extreme weather including more drought, c) a lack of administrative attention / concern / pro-active planning from TPWD biologists, d) wild swings in O2 and particulate matter fish depend on, and finally e) the unknown factors yet ahead. We are dealing with Mother Nature after-all, and she's obviously extremely pissed.
For those many of you who are waiting for me to tell you, "The switch has flipped, and it's on," you better believe I will let you know here (website / twitter / instagram) first. Each of those resources provide different timeliness in their information. I would suggest subscribing to the instagram feed today, because that is the fastest way I distribute information. And if you want those valuable details that go with a FISH FLASH, you're going to want to pull the trigger on a paid subscription now.
Thanks for reading from wherever you are today. I hope you arrive safely to all your destinations wherever you go this week, and coming holiday weekend. As you know, I don't do any fishing on public waters during holiday weekends, and this weekend will not be an exception.
Category: Adventure, Backcasting, Complimentary Reading, Culture on the Skids, Fishing Reports, Fly Shops, Movies DVD Video, North Texas