fly fishing texas carp on fly ray roberts #flyfishing #texasfishing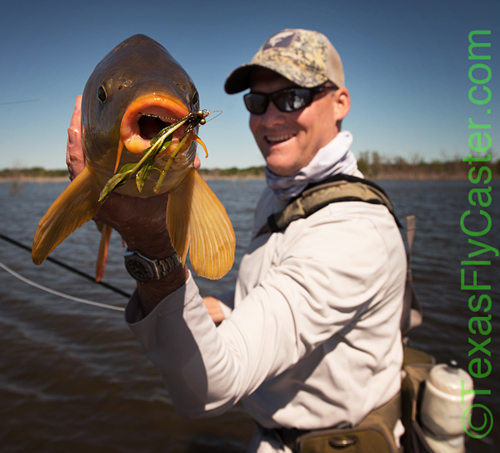 Another day at the old office. Wipe away the cobwebs from the old fly rod and reel, and go get some.
After a weekend outage (four days actually)[ppw id="133619350″ description="Texas Fly Fishing" price=".10″]
of the website that didn't allow any site updating, we are back up and running for your better or worse … I hope the better of it! We were cut off at the knees last week by the outage, which really helped my progress on rebuilding parts of the Fly Bar (that have aged over the years), and helped with the new configuration of fences I built in the back yard – as we prepare for a new studio for Cimarrona Hats & Accessories in that same back yard.
What the outage didn't help is; in preparing a short story on a trip (a little over 200 miles round trip) to the dam below Possum Kingdom Lake. That will be out as soon as possible. It also short circuited the Texas Fly Fishing Report, as those reports are timely. With the weather changing so rapidly those reports can become worthless in a matter of hours, or a couple days.
Things are stacking up pretty deeply in the background, like the story on yesterday's outing on a raging-then-calm Lake Ray Roberts – taking old friend and guru Joel Hays for a walk-wade of one of our old haunts, after being blown away from an outing with JB on his East Cape Fury – JB just turned around and drove home (like a lot of other boaters we saw at the ramp). The short story version – Carp-A-Plenty. JH stuck two, and broke his BVK on the second, so we were off the flat after only about an hour.
GETTING THE GAME FACE ON
Also stacking up are the places to hit as things turn on-and-off again in this unstable weather. Looming next weekend is the Lake Fork Bass World Championships on Fly. On a lake I have zero boating experience, a lake known to have widowmaker stumps … nerves are already fraying, but research is forthcoming. In fact, most of the lakes on my spring short list are hazardous to boat/driver health. If anyone has any tips for running Lake Fork, and surviving to talk about it, please let me know.
GO-NO-GO FOR LAUNCH?
Right now, I am holding off on launching the new Texas Skiff website, as income of a more tangible proportion is in demand. A more likely launch of a business site very soon – a site called SoftSparkArt, based on steel work, both creative art, and functional home-yard steel work done by me on the "Spark" side. And the "Soft" side covered by unique art by my better half, but different from her work at Cimarrona. WE have actually started feeling out the "Spark" side at Etsy, and you can see Spark work at Soft Spark Art Etsy.
Stay tuned as we approach warp speed!
[/ppw]
Category: Complimentary Reading, Culture on the Skids, Destination Fly Fishing, Equipment, Fishing Reports, Flats Boats, Fly Fishing For Carp, Fly Rods, North Texas, Technical Poling Skiffs, Tournaments and Contests