Welcome to the Monday Morning Sidewalk from wherever you are this Monday November 14! What can we say about the last week that hasn't been said? Nothing, and that's exactly what's being said around here – nothing. Now when it comes to fly fishing in Texas? There's still a lot to say as the winter fly fishing gets wound up and ready to spin in earnest.
Speaking of "winding up," I hope you had the time to look at the YouTube video on tying the "Redfish Meth Fly" that broadcast last week – here and on the ever-growing Texas Fly Caster YouTube channel. I went ahead and put that video at the bottom of today's news post just in case you missed it. You sure can tell when a fly tier is out of practice!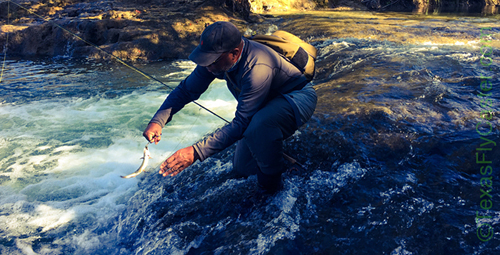 Speaking of "winding up," I took a day last week and headed up to the Blue River (in Oklahoma) and, armed with the "Mop Fly" proceeded to clean up on stocker trout in the Blue River's (what I call) catch-and-kill area. I had a guest with me, and his luck was just as good using the tried and true black woolly bugger fly. We did have to move around a lot, as the 80-20 rule* was in effect even though it was only Thursday. By the way – I never heard anything back from contacting my sources who do the Blue River Trout Derby. So I guess it happened Saturday, and I guess it went just fine.
Speaking of "winding up," I spent the day on Possum Kingdom Lake Saturday, and it was my first day on that lake. Here's the deal – 1) that lake is incredibly clear in places, 2) it looks like a fine place to chase carp from skiff, 3) schooling LMBs are findable, and, 4) I get the feeling this lake still feels the effects of golden algae with lower populations overall, and virtual disappearance of smallmouth bass.
Possum Kingdom has actually been transformed into a little kingdom for a lot of individuals and corporations whose mansions rest on the cliffs of that lake. Many of these lake houses really are mansions. It is one of the most surreal lakes I have been on, so far, in Texas. It's a lake in eastern West Texas, plopped down in the middle of nowhere, surrounded on its cliffs by a crown of, not McMansions, but real mansions. Leave the canyon lake rim of cliffs, and you're more likely to see mobile homes, deer, hawks, snakes, cactus, and since the fires, thriving mesquites. The unique visuals of this lake make me want to get back out there very soon. If you look at that lake on the map, I call it a "dragon" with its long narrower winding layout. I just have to get some more of it, and seeing buff and carp (while looking for bass) in November is the spark for doing some exploring there next carp season.
A CHANCE MEETING
I stopped in to see if I could find some new Ram Mount accessories at Mariner Sails in Dallas, Texas, and happened to meet a guy headed for the Texas Gulf Coast to fish the fall flounder run in Galveston – an event he's been doing for several years. We got into a conversation, and he said he would love to fly fish the run for the first time, has some experience with a fly rod, and thought that would be fun … one thing lead to another, and after a long day on Possum Kingdom, I drove his way to meet him (before he left for Galveston Sunday) to sell him some of my flounder Clousers. I may never know if he put all his fly fishing ingredients together to have a shot at flounder on fly, but at least he has the flies, and a brief roadside fly rod demo on how to work a fly for flounder – beside the howling Saturday night traffic and sirens of HWY 380 between Denton and McKinney, Texas. We actually lingered in conversation awhile after that demo, as he told me he had just finished radiation for a tumor in his calf … which of course lead to cancer war stories (and a Reel Recovery recommendation).
It's hard not to believe there's a reason for that encounter, especially on the heels of the news last week, that one of my class of Reel Recovery attendees lost his brief battle with cancer that overwhelmed him in his early life. Old guys like me taking a cancer beating is one thing. A guy in his early 20's, getting the ultimate beat down? That's a whole other thing; I just think of the unfairness of it all. We send out our heartfelt condolences. Wouldn't it be great if Trump kept Biden on to run the "War on Cancer."
THE WEEKS AHEAD
This week, I'll have a short new story on the Blue River, and what I saw there that got me thinking about the changes there. I figure I may as well run the book review I wrote for the Lone Star Outdoor News in preparation for the upcoming season of giving – do people still give books as Christmas presents? And we will round out the week with (you won't believe this!) another fly tying video! WHY? you may say! Well, I was shooting the Redfish Meth Fly video last week, and it only seemed logical to go ahead and knock another one out while the fly shop was set up for video. There is more content on the drawing board, but unfortunately I have to keep it under wraps for now (good story ideas are scarce, and the gleaners still harvest here regularly).
Before we know it, it will be time to start sharpening the choices for the Top 10 Fly Fishing releases – music releases that is – of 2016. It has been a good, not great, year for our fly fishing ears … I am always looking for your opinions on that topic as well. (Please don't, as in years past, wait until after the list starts coming out to have an opinion on what I should've included!)
Go out and have a fantastic week! It looks like this winter is perhaps a repeat of (what I can remember from) last year's winter weather — so far. And that spells another fantastic Texas fly fishing season this winter – as well as next spring and summer. Let me know what you are doing and where you are doing it – fly fishing, beer tasting, eating, music and adventures! It's hard to hide the fact that we Texas Fly Casters, were and will always will be a bit of a "FLY FISHING CULTURE ON THE SKIDS" – sometimes a little more, and sometimes a little less. The one, the only, the original place for the Texas Fly Fishing Report and maybe a little bit more …
Tried crack – the redfish crack fly? How about a little redfish meth fly then?
Category: Adventure, Body-Mind-Soul, Complimentary Reading, Culture on the Skids, Destination Fly Fishing, Fishing Reports, Fly Tying, kayaking, Saltwater Fly Fishing Texas, West Texas