This week will look a little thin – if you are looking for it to unfold from this keyboard to your eyes. I'll be stocking up the words on the road; we're headed for Port O'Connor, Texas, midweek, and as you know it's not a hop-skip-or-jump from here to there.
We're in amazing times on Lake Ray Roberts. The carp have gone into hiding, and the habitat, as you can see in photographs taken Sunday, is inhospitable for anglers. I mentioned many months ago that we would have an "interesting" situation if the water came up into all this vegetation all at once, and that's exactly what we have.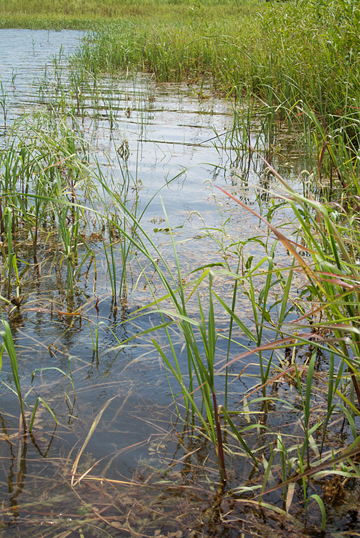 This is what the current "habitat" at Lake Ray Roberts looks like – hard to wade and no tails, just an occasional slurp.
Bushwhacking through this growth is a daunting and exhausting prospect. Standing in a foot-and-a-half of water and pounding down brush two to four feet high, so thick in places that it lays down into a soft porous matt, can take the wind right out of you. And don't forget the heat and humidity … talk about a workout.
Listen between the cracks in the bush, and you may hear a slurp or two from a carp or two. Right now those carp that are around are slurping seeds off the top of the water in the safe cover – virtually uncastable, and almost completely impervious to peril. It's an unusual cocktail indeed.
It's all so unusual that two guided carp trips this week actually have to be moved.
ON THE ROAD
It's hard to know what kind of information I can get out on Thursday and Friday from Port O'Connor, perhaps check the Instagram feed for photographs, or the twitter feed @texasflycaster for both words and images.
Part of a fly fishing trip, to somewhere extraordinary to us, is the accumulation of information. (Heck, that may be how you got here – looking for unique information!) In true fly fishing (casting) tradition, a successful trip begins at … the fly. Flies for saltwater are easy enough to compile, but it becomes a little more specific when you are trying to find flies for a specific fish, in a specific place at a specific time of year.
We're after fish that feed along the Port O'Connor jetties, sizable fish that have a reputation of eating almost anything that looks like baitfish. Simple enough. That means Clousers, bigger than average and heavier than average – to get down and handle the current. Fly color – saltwater. Hooks in stainless steel or duratin coated so they don't rust before they hit the water. And my preference for eyes and flash always leans to gold for the salt.
But as the research into flies continues, we run into nuances like, "What about tarpon?" That leads to more research, and investing some (of my "semi-precious") Tiemco 600-SP hooks in 1 and 1/0 – gripped by Enrico Puglisi fibers and tailed by rabbit (standard width). And what colors do tarpon like? The colors I don't have (in Puglisi) of course! Chartreuse, yellow, purple, black and blue can all be viably woven into the deadly Tarpon Toad. If you need to see a video of how to tie the tarpon toad, why not go to the source?
How to tie the tarpon toad by Gary Merriman –

As simple as the fly is, it actually requires dexterity and accuracy in cutting down the Puglisi at the finish. The dexterity (for me) comes in when lining up / turning the clots of Puglisi fiber, and then cinching them down effectively. I feel like I need to abandon the tension of the bobbin, and actually hold the thread and do my figure-eights with extreme hand tension. Even after doing that, you can still stack the fibre like Gary Merriman shows in the video. I have yet to do a satisfactory (to me) final cut of the fibers into the proper shape, but there's time to tie another dozen in the wee hours.
Then there are always distractions, like the beautiful flies tied and photographed by Port O. guide Captain Scott Sommerlatte. Unfortunately, you can't see those unless you are one of those "Facebookers" – but it was a public enough forum that I think sharing it with you here will do for you what it did for me – create a huge distraction! These flies of his may catch fish, but they certainly caught this fly fisherman's eye!
TO BE CONTINUED …
Although it's a rapid countdown to Thursday and Friday at Port O., I am going to try and run a story tomorrow on rod, reel and line selection for this specific fly fishing trip. And If
Category: Backcasting, Fishing Reports, Fly Fishing For Carp, Fly Tying, North Texas, On The Road, Saltwater Fly Fishing Texas, TECHNICAL, Technique