tenkara fishing #tenkara broken bow oklahoma fishing
Tenkara Class
October 4, 2014
Broken Bow, OK
Tenkara, the traditional Japanese form of fly fishing, continues to rapidly grow in popularity in the US, Japan and Europe. It is a fun, simple and effective means of catching Trout and other species. I began fishing Tenkara style in 2010 and began to offer guided trips on the Lower Mountain Fork River in 2011. I became a member of the Tenkara USA Guide Network that same year.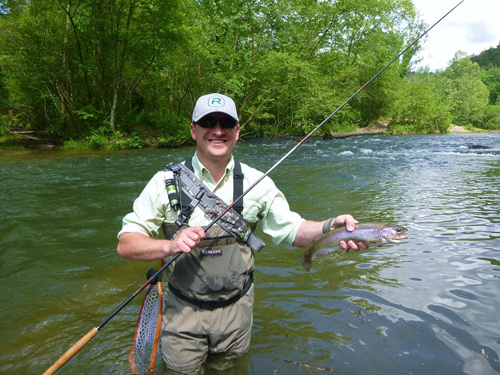 I will be offering an in-depth Tenkara Class on Saturday, October 4 on the Mountain Fork River. The class will consist of a 4 hour on the water session and two hours of fly tying instruction at The Forest Heritage Center covering traditional and modern Tenkara flies.
Topics include line and rod choices, rigging, fly selection, casting, presentations, strategies and playing & landing Trout.
Tenkara rods, lines, flies and fly tying materials will be provided. Students are responsible for waders, wading shoes (rentals are available), Oklahoma Fishing License and fly tying tools. Everyone is welcome to bring their own Tenkara rod if they prefer.
The class will be limited to 8 students. In order to maximize the time and attention I can give students while on the water, the class will be divided into two groups. The Morning Group will be on the river from 7:00-11:00AM, the Afternoon Group will fish from 2:00-6:00PM. Everyone will participate together in the fly tying session from 12:00-2:00PM.
Tuition is $125.00
– Rob Woodruff
Category: Fly Fishing for Trout, Guides, TECHNICAL, Technique, Tenkara