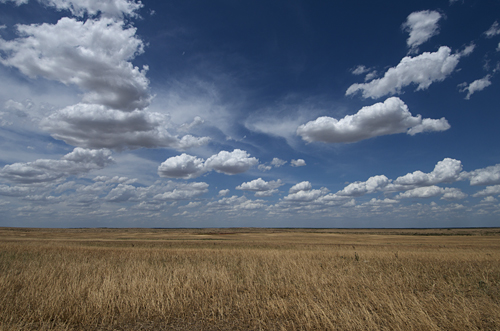 Our view today, and every day for awhile. Where else would we rather be anyway?
Drawing the spiral out from where we sit on the Shale, within site are several stock tanks. In Texas, stock tanks, or ponds if you're a vegetarian, can be spectacular fishing fun. They can also be big mud holes coated with water. So far, as I spiral my way out, these tanks in sight are the latter, occupied only by turtles and frogs the size of chihuahuas.
These frogs deserve more attention, and perhaps at some point I can capture one, or an image of one. I'll have to work on my rusty roping skills to have a chance at the frog roundup, and as long as I am taking the time to rope one, I may as well bring a saddle and go for a ride as well. Look out Calveras County, here comes Texas.
Further off on the plateau, there's a creek gouged in by flash flooding rains, but as dry as the bones we keep finding scattered about. This summer the bone collection grows.
I heard about a creek drying up along with a pond full of catfish preparing to die. Nature takes her course, and blazes a deadly trail. I'm not sure I want to see it, or smell it, but I hear it's a "must see."
So we stopped in Belleview, Texas, just off 287, on our way back off the Shale, to see if any fish were left. Keep in mind temperatures here topped out at 108-degrees. All that was left was a few huge turtles sliding along the mud, feasting on fresh boiled fish. All fish that were alive, were no longer. No movement anywhere. Just another Texas pond, in this instance Bellevue Lake, dried up and soon to blow away.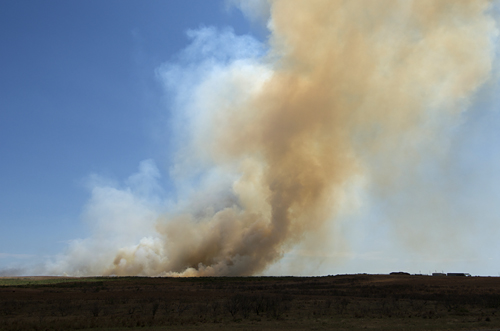 Texas brush fire near our location.
The next stop in the spiral would be Amon G. Carter Lake. This one's on the map, and even TPWD gives it high marks for largemouth bass (the highest mark), and high marks for white bass, catfish and crappie.
I squeezed an early departure from our site, and headed back toward Bowie in my trusty, rhymes with rusty, Land Cruiser. I saw water about thirty minutes later, and with no fishermen to go by, picked a spot to park near the riprap the road was built upon. I can't really call it a dam because there's a huge pipe that boats use to pass between the two water bodies the road creates. That passage, where boats were still passing despite the low water levels, seemed like the most likely spot for good bottom contours.
I tied on a simple home-grown heavy lead eye Clouser (black/black on a 60-degree jig hook), and let it fly. The first cast, as always, was full of adjustments; strip out more line, check the footing, check where your slack is dropping, check for snakes, check for obstructions in the backcast, check for law enforcement, check for spectators, and let the second cast go. Bang. A nice largemouth on the second cast with a boring, but reliable fly, and an especially green fight followed by a finger bite when I lipped the nice twelve inch largemouth. I couldn't help but wonder what I had stumbled into.
I immediately took another slower look around the lake. Driving in I remembered that you could see virtually all of it from the road – a small lake. Around the edges were downed and aged trees. Looking off the riprap shoreline, there was vegetation, in clumps, submerged and the water was not clear but not clouded with mud or any algae bloom.
I saw the clumps of vegetation were within reach, and went off the front (deep water) side. Bang, another largemouth just as mean and bigger, put the bend in my Sage Z-Axis 6. I started feeling the rush; this is how a bass lake is supposed to work. This place was either "how a bass lake is supposed to be," or simply infested with hungry mean and green largemouth bass. I think I will go with; I was so good, I just picked them apart. The science of bass I had been reading about was being practically applied by a newly-educated fly fisher, and a slaughter ensued.
I continued about a hundred yards back up the road on the riprap, and that's where the bass finally quit hearing my whispers. The moon began to rise, and although I knew the big girls would be out to play soon, my work schedule for the next day was looming. Time to go. Besides, I had these bass right where I wanted them. They were going to be my summer pets.
Or, so I thought …
Part 2 Tomorrow
Category: Culture on the Skids, Fishing Reports, Fly Fishing for Largemouth Bass, Life Observed, North Texas, On The Road