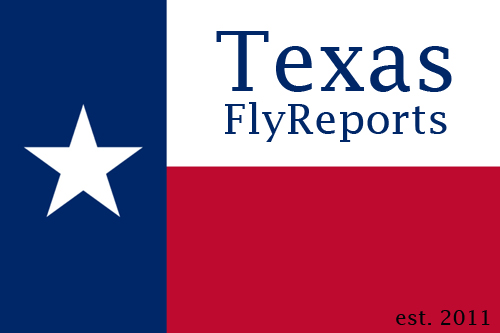 New Texas Fly Reports logo 2011.
Out here in the middle, there's time to work on the new logo for Texas Fly Reports, and read in depth on the US National fish, the largemouth bass.
It's fantastic to see the new site Texas Fly Reports begin to get populated with like minds, with favorable dispositions, and knowledge, all with the goal of discussing fly fishing in Texas. As I said in a previous post, Texas Fly Reports is in the hands of two highly qualified, and kind fly fishers – Austin Anderson and Robin Rhyne. During the summer doldrums, one would expect a slower start than Texas Fly Reports has had, but we all know how hard it is to get going when it's anywhere from 102-degrees in Denton, to nearly 110 here in the Middle.
Out here, there's not a lot to do but read, and I prepared myself for extended sequestration by picking up a book the other day. In-Fisherman's book "Largemouth Bass, An In-Fisherman Handbook of Strategies," is the most detailed book on a specific fish I have ever seen. Chock full of detailed information on seasons, environment, behavior as well as the history and future of largemouth bass in the United States.
THEN, PUT THE BOOK DOWN AND PICK UP THE FLY ROD!
I put the book down to get a second shot at a nearby lake, Amon G. Carter, a couple of nights ago, and went to the same spot I went to the first time; of course expecting the same results – bass taking just as they should on a healthy little lake with healthy largemouth. I arrived an hour later than before because there was nobody at the site to give me the head start like before.
What a difference two days make! On day one, I fished caught completely alone two days earlier, and now, bass boats troll-motored the shoreline of the road dam, pounding it. "My" previous spot was being pounded by two guys cast-netting shad, and tossing them in the schools that were now blatantly obvious. I knew I would have to get a fly in the water quickly since I was running an hour later than before. I started with a few casts of a natural bunny fly, and quickly cut that off and pulled out a trusty black / black heavy Clouser on a 60-degree jig hook. It was irresistible two days earlier, so much so that I knew I needed more than the one … I fumbled out of my fingers and into the depths. We all know what happens when we fish with confidence, and I just lost mine. I tied on another, black-over-grey and not quite as heavy, and gave it a discombobulated cast.
Nothing was followed by nothing. The shanked shad on the local's line accounted for a sand bass and a couple of same sized LMB's. Still nothing on my side. After it stopped for them, they took off and I shimmied over to "my" spot. Still nothing. We conversed about the low water, not the lowest they'd ever seen, but in second place so far. There are other good spots, but this was about the best right now.
They were gone, the moon was getting stronger, a copperhead joined me, and I hadn't had a single strike. That last visitor was enough to help me make the call – time to go. I left behind the water, ripply with schools of shad, and on the 30-minute drive home recalled something I had read earlier that same day. It was in the section about life cycles on lakes, and on the calendar. We are now at the peak of shad quantity and quality (on Amon G. Carter) and that's when the feeding sessions for largemouth bass shorten drastically. It is / was so easy for them to gorge on shad that night that their feeding window was maybe an hour with thirty minutes of peak action. After that, it's over. The larger bass may have come into that area, but with fewer of them to attack still great numbers of shad, you would have to make them an offer they couldn't refuse.
And that's how I plan to attack them tonight – be there, be ready with flies I am confident in, and "let the lead fly."
So for those of you who have a natural instinct for your fish quarry, you probably already knew this single small significant detail. Heck, you probably know when it's going to happen in your water and elsewhere. However, if you want to know more about the largemouth bass than you really need to know, be sure to take a look at the book "In-Fisherman Largemouth Bass." Let us know what you think of the new Texas Fly Reports logo as well!
Category: Culture on the Skids, Fishing Reports, Fly Fishing for Largemouth Bass, Life Observed, North Texas, On The Road