… Then it must be because the trip to the Louisiana marshes for redfish went well.
I know you must wonder about fly fishing writers who float around in the blogosphere, and have stories that start so clearly; "I'm going fishing … ," and end right there. Not a word. That's because they (the writers) haven't learned the simple trick – don't talk about a thing in advance, and only write about it after you have fish porn firmly in camera. Texas Fly Caster's policy has always been to report – whether it was fishing or catching – no matter how much it effort is spent in striking out. There was a moment of doubt (as to this policy) on this trip, but only a moment.
The trip to New Orleans was originally planned for before Christmas, but the guide called it off and we rescheduled it due to weather. It's nice when you can make that change and not explain it to readers. So we scheduled it for January 16. That's one day of fishing sandwiched between two flights, one late the day before, and one early the day after – a real in-and-out adventure.
As if to add to the excitement, one of my friends just got back from the marshes, a Tailwaters sponsored trip to the Plantation. What he told me was enough to plant a few seeds of doubt. "The water has to be clear, and the sun needs to be shining," he warned. "Otherwise you can't see 'em. They were acting strange anyway. We didn't see them slamming bait on the grass lines, and you just couldn't see nervous water," he said.
He asked who my guide was, and I couldn't say; we were going to be running through Uptown Angler and one of their guides. "Your guide can make you or break you there. Ours … just didn't seem to want to really work to find fish. No matter what, you're going to make a fairly long run to get to the fish," he said. That begins to put the idea of shooting another episode of Kayak Fishing Journal in proper perspective. We got off the phone, and I checked my e mail for the porn he said he was sending. Sure enough, a bit more fuel for the fire.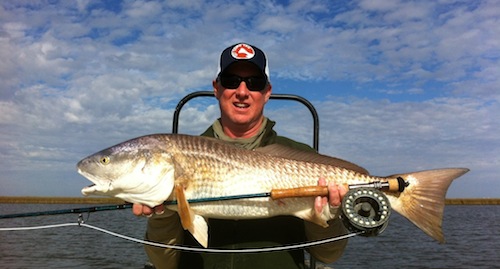 Adding fuel to the fire – Louisiana Marsh redfish porn. Courtesy Chris Weatherley
The Premise
Lest I skip over how I was dealt the luck that takes me to one of the hottest fly fishing spots in the US, if not the world (because of famous winter bull redfish), let me tell you about a guy. He's an interesting cat, and happens to be a photography client of mine and a photographer himself. Jerry Goodale and I discovered our mutual interest in fly fishing only recently, when we started working together more often on projects last year. Not only does he have a healthy fly fishing addiction, he has focused some of his energy on a few clients that cater to that addiction. A fly fishing lodge in Canada and a resort in Belize have both done a decent job of feeding his need for fly fishing. He's a hunter as well, and Africa made his itinerary last year. I think you get the picture, the big picture. A brilliant strategy, I think.
How I came into favor, I will not presume to question. It could be my abundance of charm, or steadiness with a camera that helped me make the grade. I wonder a little, but care less. You know what they say, "The sun even shines on a dog's a$$ some days." It all started with an obscure text that went something like, "Louisiana redfish." To which I replied, "yeah awesome." He responded, "fly fish for reds in Louisiana." Cryptic texts are part of the package. "Yeah, they're there now," I replied in growing pain for not being able to go. "Do you want to go?"- he tapped out. "Sure, but I can't afford it," I tapped back. "No. Do you want to go?" – again. I knew the answer to this one, "yes" was the simple, but loaded, answer. Besides, it's not good to act too excited, you know – cool.
The Plan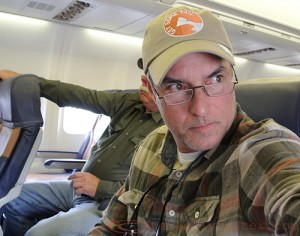 It's a simple plan really, and from Dallas on Southwest Airlines, it is a hop-skip-and-jump to New Orleans. One stop on this flight in Houston, and we are on the ground in New Orleans in about three hours time. With no plane change and flying Southwest, checking a valuable bag of rods and reels is a less risky proposition.
From the airport, we've got to get downtown to the hotel. (TIP – We took the airport shuttle at almost $40 each round trip. Do some research, and see if you find a better way.) The ride takes us right into the heart of New Orleans, and it's still easy to recognize landmarks brought to us in living color – courtesy Hurricane Katrina. The photojournalist's search for waterlines, any telltale flotsam and jetsam is, for this photographer, unavoidable. It looks untouched, much different from the time I was here about six months after the hurricane – even cleaner it seems than when I was here for the IFTD show last year.
We checked in, dropped bags, and hit the street for some Cajun food. If you are going to stay in the Big Easy, you are going to be eating – a lot. I can think of no better place to stay, nor any more practical solution for the cohorts who may be traveling with you (not fishing), than to be in the heart of New Orleans. They can have their fun while you indulge your addiction. The food, and lodging in The Big Easy does come at a price though. It depends on the time of year, but you're looking at a four $$$$ on my artist's five scale. *Check comments for restaurant details.
We hold our priorities in order, and are lights out by ten on a Sunday night. Sleep is easy, even though the onetime city, now a town, never ever sleeps. Shut eyes, alarm goes off.
On a Monday Morning Sidewalk
Captain John Iverson pulls up in a beautiful example of a bygone era, a 1994 Ford Bronco, two tone brown over gold, perfect on the outside. Attached is, I rub my eyes for luck as much as sleepiness, one of the sweetest boats on the street – a Mitzi. Does it get any better?
Introductions, and we find a place for our rods in the back of the Bronco, and are off hitch rattling echoes down the empty city streets outside the Quarter proper, to the Marshes. Captain John gives us a rundown of where we are going -the Biloxi Marsh, and where we are launching – Breton Sound Marina. The boat ride will take about an hour.
"You get your fishing licenses," he asked and we replied in unison, "No." So many different states, and the usual idea is to hit some sweet smelling bait shop, scribble out the forms, get a copy and off to the more important things. "No problem. You have smart phones? You can do it online or call this number, " The Captain had it together, but do yourself a favor and purchase your license in advance, and forget about navigating a governmental website with a smart phone – make the call if you're on the road.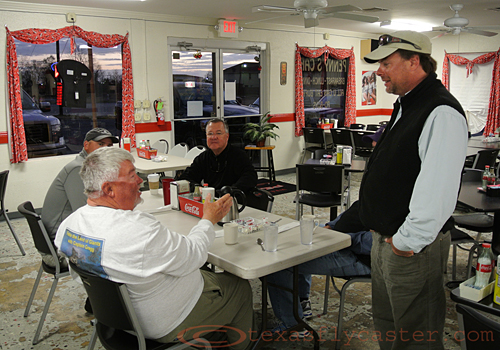 Talk amongst guides inside Penny's Cafe.
Just about the time I confirm the billing for a day's worth of legal Louisiana redfishing at $8.50, we stop at Penny's Cafe in what I guess is Hopedale. A shrimp poorboy and ham and egg sandwiches are waiting inside. Captain John stops to talk shop with a few guides gathered at a table in the restaurant – the early birds. A couple of them have a serious case of the raccoons, those goggled eyes from their sunglass coverage, the exposed skin extra Cajun crispy.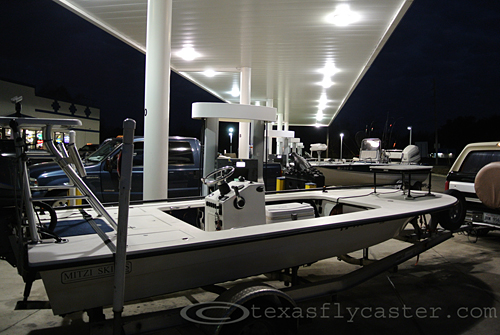 Gassing up the Mitzi at Penny's Cafe. Just another day in paradise.
Back in the truck and on the move, the banter bounces around the inside of the Bronco, and passes through enough fly fishing talk to give Captain John a clue of the skills of his clients. We talk sighting, and how to directionally "clock-in" to twelve o'clock high. "Another guide said it's like playing a video game with a broken console," in reference to zeroing a client in to sight a red. We laughed on that for a while.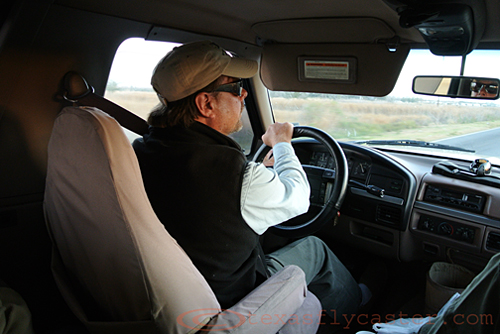 Captain John Iverson at the wheel of his 1990 Ford Bronco, headed for the boat launch as the sun finally shows through in South Louisiana.
TO BE CONTINUED …
Category: Culture on the Skids, Destination Fly Fishing, Eating and Drinking, Fishing Reports, Fly Fishing for Redfish, Fly Shops, Gulf Coast Report, Louisiana Report, On The Road