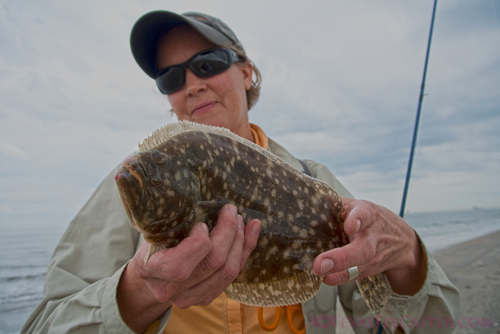 My special guest this Black Friday was Leslie, and she persisted to catch this nice flounder in Galveston, Texas.
If you missed part one on catching flounder with a fly rod, then you may want to look back at the post "In The Woodlands …" which started with the fly selection for Galveston and Texas Gulf Coast area flounder fishing with a fly rod.
As you recall, we are taking the route from the end of the line – your fly selection – all the way up the line, through the rod, into that grey matter between your ears – to enhance your opportunities at catching the seasonally adjusted abundant southern flounder in late fall and early winter. This article on flounder on fly is unusual because I have the good fortune of hindsight, having just spent two days last week and weekend fly fishing for flounder around Galveston, Texas.
LEADERS
When it comes to leaders, I simply tie a two piece fluorocarbon leader with a 20 or 25 pound butt section (at 4′) followed by a 5′ length of matching brand 8 or 10 pound fluorocarbon tippet section. My constant companion is a series of spools of Seaguar Invis-X contained in one of those big box store plastic snap containers that holds and distributes about five spools. Use painter's tape to secure the end of the line to the container to keep the line from retracting back into the container. You can also use a Sharpee marker to write the weigth above each eye distributing your lines. If you don't secure the line outside the hole, the vibration of driving hundreds of miles seems to magically retract them back into the container, and you are faced with rethreading them all through the box.
On a typical outing, a single leader and two or three flies suffice for the entire day. That said, I carry three leaders and dozens of flies. I typically supply all my guests with these successful ingredients.
Why fluorocarbon? Fluorocarbon sinks, and it withstands abrasion better than mono. Although the flounder is a toothy fish, I have yet to need a bite tippet to thwart frayed line. That seems to be because of the way the Clousers I tie ALWAYS hook flounder properly, and we aren't throwing big fat plastics that have to be swallowed (a 10 second pause on a take is what they recommend for GULPs) to be set. – More on the retrieve in How to Catch Flounder on Fly Rod Part 3 –
FLY LINES
All my fly lines are set up for loop-to-loop connections, a connection that may not be the most docile for trout presentations, but is highly functional for the rough-and-tumble saltwater species of Texas. For flounder, you are looking at water depths of three inches (no kidding) to five feet. Obviously a sinking line is completely unnecessary, and I believe it to actually reduce your catching ability for a number of reasons (ask for details if you like).
I don't consider myself to be a "conesseur" of fly lines. I use fast rods, so my bellies tend to be big – redfish line, general saltwater or bass lines are my choice. Remember you can be throwing Clousers that weigh a bit more than a #20 Royal Wulff.
FLY ROD
We encounter two distinctly different flounder when fishing this time of year. One type are the younger smaller males who are most abundant. The other … mammasans that can be as big as a galvanized trash can lid. The males outnumber the largest females roughly 40-to-1. Because of the large females, you need to think in terms of an elephant gun, but know there will be a lot of mice caught as well.
So you are looking at a fast six weight as a minimum caliber, and don't think twice about going to eight weight. Flounder have a funny way of fighting which we will talk more about in Part 3. Saltwater series rods make perfect sense. Heavier "Bass" fly rods make sense as well, although their shorter length can be a problem.
FLY REEL
Large arbor saltwater fly reels are your most efficient reels for these conditions. And make no mistake, the conditions are harsh, very harsh.
Category: Culture on the Skids, Destination Fly Fishing, Equipment, Fishing Reports, Fly Lines, Fly Reel, Fly Rods, TECHNICAL, Technique, Texas Gulf Coast, TIPS