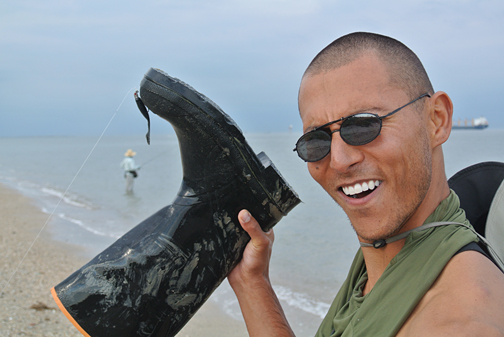 I think I have used the terms, "dirty, filthy and trashy," to describe Galveston, and I couldn't resist showing you this image as evidence. With hundreds of tankers, cruise ships, ships, boats etc…, passing through the ship channel, is it any wonder?
HEADED BACK TO THE MIDDLE AGAIN
Back inland now, and getting ready for another stretch out in the middle. If you are unfamiliar with the middle, it sits right in the middle of the Barnett Shale here in North Texas. There's not much I can do out there but write about fly fishing, meteorites and Texana.
Stay tuned, because I know the last story in the series on catching flounder on a fly rod in Galveston is due up. It's called "Grey Matters," and now that we have moved past the technical aspects of flounder on fly, we move into the mental aspects of catching a unique species on fly rod.
I don't know if I will have satellite internet connections while out on the Shale, so hang tight, and check back often because even though the fishing is officially off for North Texas warm water, there's still plenty going on in the world of fly fishing. We are back in an official drought, and I heard the statistics for Texas on the radio today, and it's staggering. Not only that, the Mississippi is down, and predicted to drop below record level lows set in the 1940's. I don't know about you, but I am getting too used to this new normal.
Category: Culture on the Skids, Fishing Reports, Gulf Coast Report, Texas Gulf Coast