FLY FISHING 101 – Texas Ponds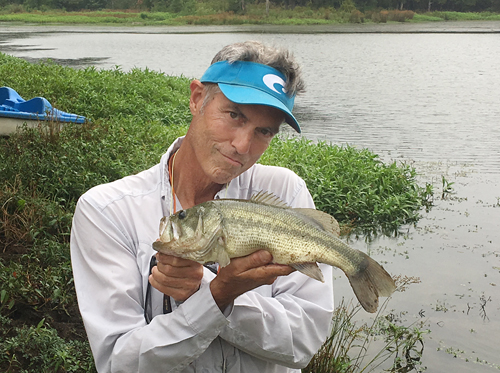 So how do we approach a fishing pond we've never seen before? Maybe there were rumors, and speculation about double-digit bass. Maybe it was about gargantuan sunfish? Rumors and speculation aside, we can find our way through the fog and catch a fish on a Texas pond in the heat of summer if:
we know what we know

we know what we don't know

we bring a lot of ammo

we know how to figure out what we don't know
A smaller Texas pond can have many of the same characteristics as a huge Texas lake or pond. And even a cove in a huge Texas lake can provide the learning that helps us fly fishers take apart a pond – piece by piece. We know that for sure.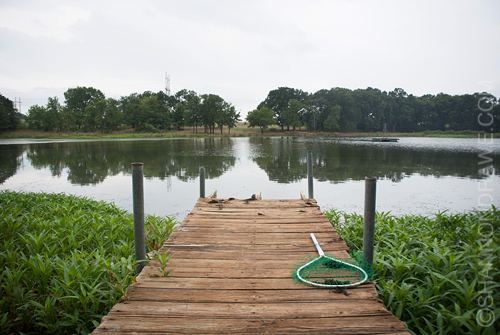 Most lakes in Texas have similar characteristics within a certain range. Ponds, on the other hand, exponentially outnumber lakes, and have a wider range of possible differences. We know that we don't know for sure.
Here's how to start to know what we don't know.
FIRST – Look at the pond. Does it have choking vegetation? If it does, is it covered, or is the vegetation only in certain areas? Are cows walking in in a certain part of the pond? Is there effluence reaching the pond? Where? Do your biology.
Where does water come in? Where does it drain out? Does it drain at all? Is the pond low water level, normal or high?
SECOND – Take a little walkabout. Did you stir up some grasshoppers? Do the owners know about any bugs, mice, snakes or other possible meals for fish? Do your entomology. Do your meteorology as well – the pressure changed and it rained on us. Fish started biting just before that rain came, so we were dealing with a pressure change early-on.
THIRD – Listen. Did the owners tell you anything you can use? Is it an early, late or all-day bite? And are they using topwater or sinking lures. Convert this into your fly box! CARRY A LOT OF DIFFERENT FLIES to the pond. I had at least 200 flies with me last weekend at the pond I was fly fishing, and had to change colors and types until I found what worked. My "Go-To's" didn't go. I changed flies at least six times before getting a crushing strike; the bass came up, out and went down on a subsurface fly in a dark green. I had chosen that fly out of sheer desperation, and it paid off with multiple fish after the first.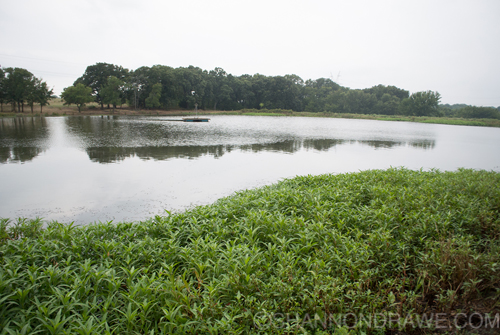 Keep changing flies until you find what works. My biggest fish were caught on a four-inch double bunny in black with rainbow flash. This is how you figure out what you don't know about flies – by changing them until you find what works. Abandon your favorites readily, and try something completely out of character – YOUR character. Often times the fish isn't challenging you at all – you are challenging yourself to think and change. 
LAST – If you have the chance, fly fish from the inside out. If you brought a kayak, or have a chance to use a canoe or boat – DO IT. It may give you the advantage of clean backcasts on any area of the lake and numerous other positive chances for success.
Thankfully, there isn't much we don't know that we don't know these days. But if you try all this, be sure to put yourself in the place of the fish you seek. Choking vegetation is going to rule out some areas. Where water circulates is a good bet. If the pond is oxygen starved, has an algae bloom, or other biological problem – alert the owner without insulting or acting like you are a pond manager (unless you really are a pond manager). The pond I was on last weekend is in desperate need of vegetation abatement, and the owners and I were on the same page as to a non-chemical solution – grass carp. Even with some problems on this three acre pond, it still produces good bass and crappie for visitors.
ALWAYS be appreciative to your hosts, and make sure they know about any flies, and fish, and fish hooked with flies that you lost. IF YOU PACK IT IN, pack it out with you. The quickest way to never get invited back is to abuse the privilege and litter. WATCH YOUR backcast – you may be around people who have little idea about walking behind a fly caster, and don't forget cows and trees in your backcast. (This is one of my reasons I teach: WATCH YOUR BACKCAST) Feel Free To Think!
TAKE NOTES for that pond that include weather, flies, conditions of water and any details that could help in the future. Who knows? Maybe you WILL be invited back to that location again some day.
Category: Adventure, Complimentary Reading, Fishing Reports, Fly Fishing for Largemouth Bass, Science and Environmental, Soggy Bottom Boys, TECHNICAL, Technique