fly fishing oklahoma blue river trout #flyfishing simmsfishing waders tfo fly rods orvis reels
VIDEO – MAPS – FLIES – METHODS – GPS COORDINATES – TIPS
– Rainbow Trout in the Oklahoma Blue River Catch & Release –
It looks like the weather is going to give us another great shot at fly fishing the catch-and-release area, or at least above HWY.7 this weekend. The video pretty much fills in a lot of the blanks but the maps below also are a good amount of help if you've never fly fished that part of Oklahoma. Tishomingo is the closest town to the actively stocked, seasonal Blue River fishing area, and getting there only gets a little complicated when it comes to actually getting through the town of Tishomingo.
Watch and read more …[ppw id="89632018″ description="Blue River Oklahoma C&R INFO" price=".10″]
YOUR GEAR
A bicycle. It saves about two hours walk if you are going all the way up.
Think in terms of going almost mountain stream lightweight.
I have caught monster trout on a two weight on the Blue River, and the lighter rods certainly add sensitivity, as well as the shorter lengths keeping me out of the trees. When I say, "out of the trees," I mean that I never get snagged in trees. Of course that has a great deal to do with watching my backcast (Thanks Lefty!), and angle of my rod tip.
I use a four weight TFO BVK rod that is only about eight feet long, and as you can see in the video, it was plenty of rod up until the last fish.
Use fluorocarbon leaders at nine feet, and be sure to add tippet if they get short. I am convinced bigger fish lay deep and under boulders.
This is pretty simple. A good assortment of woolly buggers will catch fish. If you want to complicate things, try nymphing and a strike indicator. They seem to be loving black or purple. Think zebra midge black as well if you want to watch a strike indicator for fun.
A net, or extreme competence at landing big rainbows without a net – up to a foot below your foot level!
WEATHER – It can ruin your day. I've been on the Blue when a cool front blasted in, and the wind just runs right down the River. There's no way to keep at it due to the exposure.
Wear layers. Gloves. Head warmers. Waders only need to be waist high. It's too cold to wet wade.
Know the regulations.
Contact Barry Schrader in Tishomingo, or give me a ride up there and I can tune (subscribers) into the area. Guides are not allowed in the catch-and-release area.
FLY FISHING THE BLUE RIVER C&R is like an Easter egg hunt, fish can be found just about everywhere, more … or less.
I collected two GPS numbers for spots I caught fish. They are:
N34 22 846 BY W

096 36 195

N34 22 848 BY W

096 36 216
Here are some maps that should add to the knowledge you take with you to the Blue river. Creating maps on Google Earth has become too cumbersome to try and explore on deadline.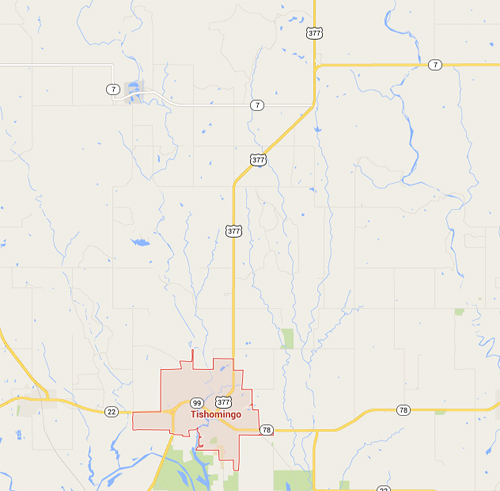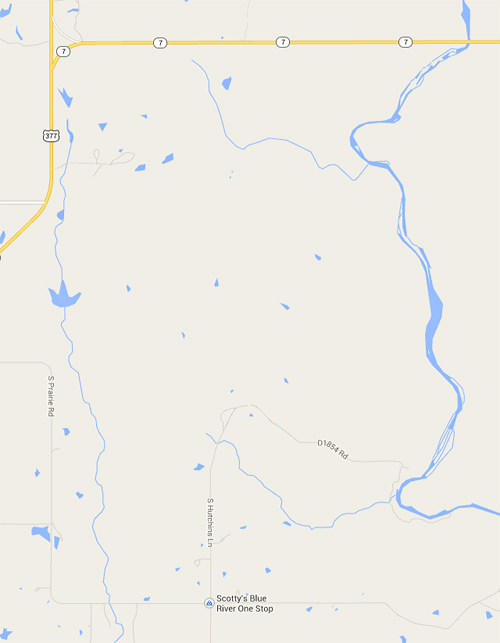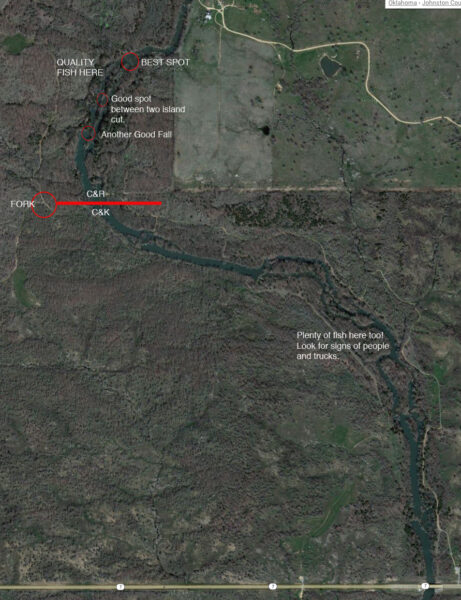 Click on the above to enlarge it a bit more.
[/ppw]
Thanks for reading, and don't be surprised if there's another report from the Blue River coming after the weather straightens itself out in the next few days.
READ MORE STORIES ABOUT THE BLUE RIVER IN OKLAHOMA?
+Shannon Drawe
+Texas Fly Caster
Category: Adventure, Apparel, Culture on the Skids, Equipment, Events, Fish Podcasting, Fishing Reports, Fly Fishing for Trout, Fly Reel, Fly Rods, Oklahoma Report, On The Road, TECHNICAL, Technique, TIPS