Good Monday Morning and welcome to the weekly Monday Morning Sidewalk column.
In case faithful readers didn't know, there is another entire world of fly fishing that exists in Texas, one that we have never been privileged to, and it goes by the name "Private Waters." There's hardly a better name, but there's probably never been a less appetizing name either. Imagine trying to spin "Private" in a positive way? Those with means may have grown up with those terms … private swimming pools, clubhouses, etc … You get my drift. The rest of us are left with a feeling … outside the gate looking in. The words, "private," and "waters," together conjure images of fences across running streams and rivers in Colorado – in my mind's eye.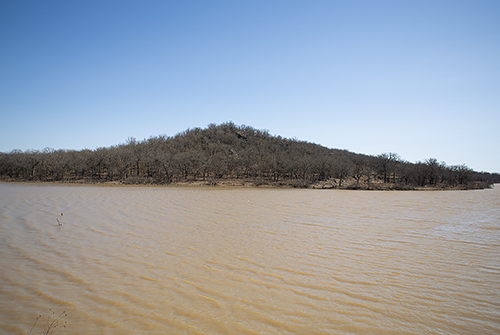 Visiting the Backside of the Moon Yesterday was a mind blowing "reveal" of one of those "Private Waters" of a different sort – that I will not soon forget. I was invited in – without membership and without entrance fee, by the owners, to do some early recon of the main 55-acre lake. The lake had in recent years gone from a high clarity lake to one with a problem – zero clarity, constant stain. While I won't hit the details of what I found, or where this may be going, I will say that this is one place that is absolutely worth the price of admission. Not for the fishing (right now), but for the sheer beauty, isolation and pristine connection to the past. Make no mistake, it'll be a project: The huge ranch has the main 55-acre lake, and 30-40 ponds on it. I only scratched the surface yesterday, and the days will have to get a lot longer to fit this scientific adventure into them. Seeing Backside in the winter was beautiful, so seeing it in spring could be overwhelming. More on Backside of the Moon as it continues the orbit …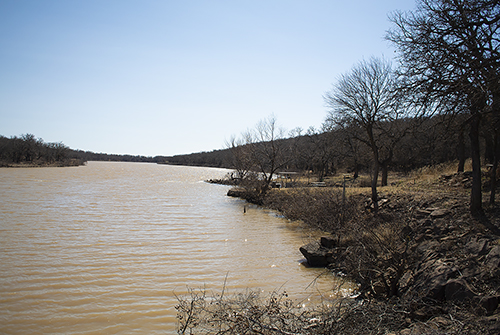 You too can access to Backside of the Moon near Bowie, Texas, HERE —
Backside of the Moon Reel Solitude Private Waters
While my friends are ramping up their fly fishing guide work aimed at chasing sand bass, there's very little of that going on above the I-30 line, and the main places we used to experience sand bass runs (along the Denton County Trinity north of the Messtroplex) have been knocked out by USACE-TPWD mismanagement. My lack of desire to chase sand bass is multiplied ten-times over this week by the fact that we are also dealing with spring break once again. I don't know about you, but I can wait a week.
IT ISN'T TOO EARLY to start thinking about setting up your spring Carp fly fishing trip though. When I say, "thinking," I mean getting in contact with me, and we can cross-over our calendars to start narrowing down your months – to weeks, and then in about a month, start setting your actual dates.
NEXT WEEK in HOUSTON TX
If all goes accordingly, Houston is on the map for next week, and if I have this down accurately, the lakes down south should be close to turning on with spring action. For a place bursting at the seams with population growth, Central North Texas has a lot less water to choose from than does a geography including the likes of; Bastrop, Fayette, Sommerville and Stillhouse. (There's your hint of what's to come.)
While in The Woodlands, Texas, fly fishing lessons are also on my to do list, so feel free to check out the Fly Fishing Lessons page, and contact me if you are ready for your next addiction. Lots of people have discovered the sport of fly fishing during the pandemic, and realize it has the main ingredient – isolation – along with being a great challenge mentally and good exercise physically!
---
Thanks for reading, and welcome to a new moon in our orbit. Visiting the "Backside" yesterday was a real eye-opener, and I hope I can help them restore that water to what it once was – for the benefit of fly fishers young and old. Be sure to check out the website Reel Solitude Private Water Fishing . Let me know what you think, and if you're already a member, let me know what you think!
Category: Adventure, Destination Fly Fishing, Fly Fishing For Carp, Houston Fly Fishing, Life Observed, Science and Environmental