Dallas Texas Fly Fishing Guide and Instructor
"Get off the bench, and get in the game!" – George H.W. Bush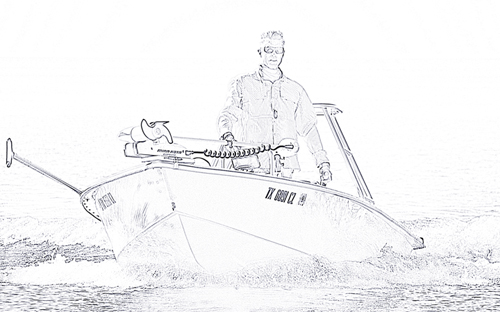 Texas Carp Fly Fishing Guide Services – How about a ride on a saltwater skiff an hour away from the heart of Dallas or Fort Worth? That's what we'll be doing again in the spring-summer-fall of 2019. (See Fly Fishing photographs on Instagram.)
ARE YOU READY? The time is now to book your carp adventure on the skiff. There's a lot to talk about before we go, but if you want what many consider the ultimate freshwater challenge, then read on!
Contact me about potential dates you would like to go out for carp – generally from April to September. The window for largemouth bass on fly is significantly different. I will also send you a guide that goes over what you'll want to bring, and pricing.
Yes, I am a fly fishing guide, and yes I have been a professional photographer for thirty-plus years. So you catch the fish and I will capture the images – professional, magazine quality images of your fish, you, your guests and your day. You'll get free selected digital files, and arrangements can be made for quality prints!
SUNDOWNERS
Yes, I do evening outings for sand bass starting in June-July. Talk about a great way to end your work day? This is it! I have special rates for parents-kids 1/1 these evenings, and you're more than welcome to bring conventional tackle to help your young person get hooked sand bass fishing – on just about every cast! And if you're hungry like me, you can keep some too.
We can also target those big fat largemouth bass (and hunt for smallmouth) on Lake Ray Roberts if that's your game of choice. It's a world away from those sand bass frenzies, but one big bucketmouth adds up to a dozen sand bass. You already knew, the "bigguns" are an early and late affair as they feed nocturnally much of the time.
GUERILLA STYLE
As the person who keeps Texas Fly Caster running, I also hit hot spots as they come up – guerilla style. We could hit the water on a moment's notice for things like palmetto bass in the Trinity River, or adventures to smaller, less populated lakes and ponds – all over Texas. You should give me your text messaging number so that you can get these notices. They can happen anytime anywhere.
Hybrid action and sand bass like this sometimes lasts only a few days, but it's some of the most exciting fly fishing you can find in North Texas. Follow my twitter account @texasflycaster to get updates on this seasonal action.
If you are interested in chasing Texas Parks and Wildlife Department water body records, we can do that as well – on Lake Ray Roberts, or just about any freshwater destination that is walkable or by flats skiff. It's fun to go after fish with a specific goal in mind, and the TPWD records add an intense twist to your thinking when you're out there actually in pursuit.
Keep checking here for more services, specials and destinations as they come available. You never know what kind of radical fly fishing I'll find next. Sometimes you just have to just see what can be done with a fly rod in Texas.
Contact me and lets go fishing!
Comments or questions are welcome.