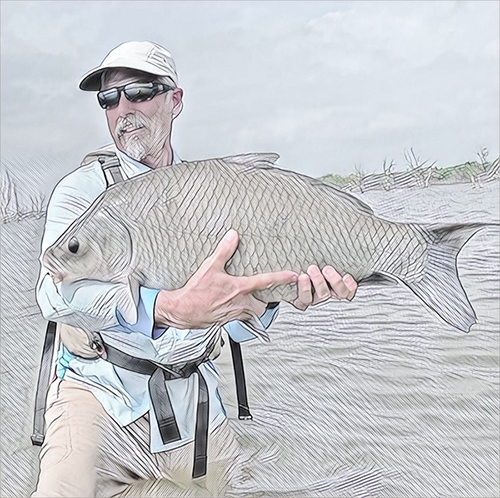 For some reason, this spring is different. I acknowledge that an aging process has been underway – not mine, but an aging of the fish we fly fish for in specific places. The carp we've chased in particular places, yes that population, is getting older and smarter. There is just no way around that fact anymore. If primordial tarpon can change their patterns and habits in the Keys, can we believer that carp that have been under constant pursuit for three decades might have wised-up just a little bit? I believe so.
There is hope though. Sure it is as difficult as it has ever been, but there are also places and fish that have no education, no historical perspective and it's up to us to provide it to them. That is what this season is dedicated to – education.
I have heard many times: "If you can figure out the buffalo population (which is now exploding on Ray Roberts), you would have something." I didn't figure much out when I caught this fine buffalo Saturday, except to be there in the right place at the right time.
It really is more about right time – in my opinion – when it comes to catching buffalo. My pattern of them over the years is this: Buffalo eat. The lake buffalo bite for a tiny window of about a week, and then luck and placement of the fly kicks in. Seeing this fish and dozens more on typical outings is usually an exercise in frustration, but for about a week … sometimes fun.
SPEAKING OF EDUCATION
This week, if nature allows, I will be producing the first of more specific Patreon Video Releases. These Patreon releases are available only to subscribers, and are a revealing look at where / how / when to fly fish in areas I fly fish, like Lake Ray Roberts, Texas. There are GPS coordinates, flies and the most important part – the LOGISTICS of places a subscriber can access on their own. This Patreon Fly Fishing channel is unprecedented; it's not a copy of anything because there is nothing to copy! And as time goes by? The Patreon Fly Fishing channel will also have inside opinions on personalities and fly fishing industry trends. Stories, like the one about the fly fishing guide who killed his Mom and was acquitted. He's doing quite well in the Hill Country guiding world … for those who can ignore that little tidbit. Stories of entitlement, personal threats I have received in years past, family matters and all the things that are too whacky to publish for the masses.
FOR THE MASSES
There is a missing person, and he just happens to be a fly fisher. I heard about "Finding Robert Moulds" from a friend fly fishing with me Saturday, and of course it strikes the cords we have – crime stoppers, missing persons, tv shows – both true crime and CSI SVU style. So far, this is more of a typical story than we see on TV. There is still no sign of Robert Moulds, and the local news has not even published a peep on the story (as far as I can see). It looks a bit hopeless as far as what little old "I" can do, but here is a little info:
MISSING PERSON: Robert Moulds
License plate RGV2396
2012 Jeep Wrangler Rubicon
Unique Details: yellow ducky on front Antenna, Ghost on both sides of hood, Rack on top, upgraded grill on the front.
He loves the below spots to fly fish:
-North Brazos
-Route 16 bridge over the Brazos near possum kingdom lake
-Blue River & Beavers Bend In Oklahoma -Basically an explorer, anywhere that has good fly fishing without alot of trees where lines could get caught on he goes often on day trips.
---
Friends, we would want to be found, wouldn't we? I know how I want to be found, but that is my story. Right now, we need to see if we can at least ENLARGE the awareness for the family's sake. Please visit the Facebook Page – Finding Robert Moulds – and try to help the family out.
Category: Adventure, Body-Mind-Soul, Causes, Fishing Reports, Fly Fisher Health and Wellness, Fly Fishing For Carp, Life Observed, North Texas